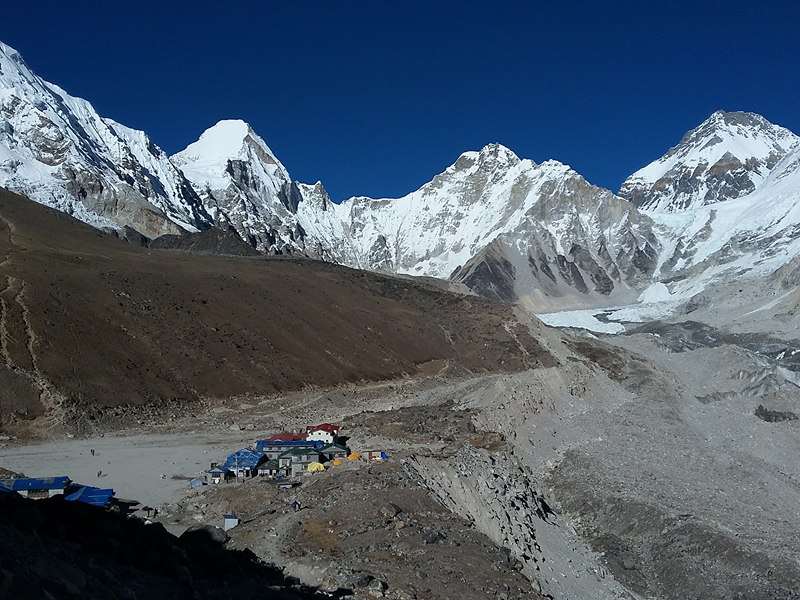 Overview
Everest Base Camp Trek is one of the most Popular trekking trail in Everest region.Mt Everest, locally known as "Chomulungma", the highest mountain in the world. This classic Everest trek through the Khumbu valley offers the stunning landscapes and the breathtaking views of Himalayan giants including Mt. Everest, Mt. Lhotse, Mt. Cho Oyu and Mt. Ama Dablam etc. Getting Closer to colossal Everest, Kalapattar (5545m) is a breather offering the best view of  Everest and the fantastic glacial walk to the Everest Base Camp which lies at the foot of the Khumbu icefall make the trek absolutely worthwhile.
Everest Base Camp Trekking Highlight
Hike to the Kalapatthar(5545m) and Everest Base Camp
Gorgeous view of the mountain ranges such as Mt. Everest, Mt. Lhotse, Mt. Ama Dablam, Mt. Nuptse, Mt. Thamserku and many more.
Exploration of the Himalayan Sherpa Community.
Exploration of the different Buddhist Monasteries.
Best Time for Everest Base Camp Trekking
The Everest Base Camp Trekking can be done all round the year. But it's better to trek the Everest Base Camp  in Autumn and Spring Seasons.
Autumn (September, October, November)
Autumn is the festive Season for Trekking for Trekkers from all around the world. The weather Conditions in the month of September, October and November are mostly Suitable for trekking the Everest Base Camp.
Autumn is one of the Peak Seasons in Nepal for trekking. The temperature during this season is quite fine neither hot nor Cold. If you wish to trek the Everest Base camp in autumn, you can also explore some of the major festivals in Nepal which are observed in autumn.
Spring (March, April, May)
Spring is one of the best time of the year when beautiful flowers are blooming and new leaves start to grow. The whole Environment becomes green which gives you fresh air and Pleases your eyes.
During Spring, Nepal looks even more beautiful in Nature. You will have Clearer scenic mountain views. The temperature and weather condition of the Everest Region is also favourable.
You may expect some light rainfall in late May. But, don't worry, the view you get to explore in the next morning is Splendid.
Everest Base Camp Trekking Difficulty
Everest Base Camp Trek is an adventurous trek of the Everest region
As you trek to a higher altitude, You might have some difficulty in breathing. The amount of Oxygen becomes thinner as you walk up to a higher altitude So, you may also face Acute Mountain Sickness.
The difficulty increases if you trek during the monsoon season. During the monsoon there are heavy rainfalls which makes the trail muddy and Slippery. You need to be Careful with your Steps. Therefore, it is best to avoid trek there in the Monsoon if you are a beginner. If you are an well experienced trekker, then you are sure to enjoy in any seasons.
Day 01: Arrival in Kathmandu (1350m)
Day 02: Sightseeing in Kathmandu Valley and preparation of the trek

Day 03: Kathmandu to Lukla flight and trek to Phakding(2640m)
Day 04: Phakding to Namche Bazaar (3435m)
Day 05: At Namche for acclimatization
Day 06: Namche to Tengboche (3863m)
Day 07: Tengboche to Dingboche (4412m).
Day 08: Rest day.

Day 09: Dingboche to Lobuche (4931m).
Day 10: Lobuche to Gorekshep(5140m)

Day 11: Gorekshep to Pheriche(4240m)

Day 12: Pheriche to Tyangboche (3860m)

Day 13: Tyangboche to Namche Bazaar

Day 14: Namche to Lukla

Day 15: Fly back to Kathmandu

Day 16: Free day

Day 17: Final airport drop
Itinerary
Day 01

Airport – Hotel in Kathmandu (1350m); (Overnight at Hotel)

Once you arrive there at the airport you will be Picked up and  transfer to the Hotel. After you get refresh you can just wander in the City around your Hotel.
Day 02

Kathmandu; Overnight at Hotel

After having your breakfast,you begin your Sightseeing tour to the different Cultural heritage Sites from Kathmandu Valley such as; Bhaktapur " Popularly known as City of devotees", Pashupatinath " the most visited Hindu Pilgrimage Site" and Bauddhanath "the largest Stupa from Nepal" and you Just drive back to the Hotel and Stay Overnight.
Day 03

Kathmandu – Phakding(2640m)

After Completing your breakfast, drive to the airport for your Lukla flight approx. ½ hour and once you arrive there the renowned Sherpa Settlement and Popularly known as "Door to the Everest", you begin your Trek to Phakding approx 4 hrs.
Day 04

Phakding – Namche Bazaar (3435m)

The trail leads the beautiful Scenery of Waterfalls along with the magnificent view of Thamserku, then you cross the Suspension bridge and if the weather Permits, you can Observe the Mt.Everest while ascending to Namche Bazaar.It takes approx. 7 hrs trek to Namche Bazaar.
Day 05

Namche Bazaar

Here you Spend your day in Namche Bazaar for acclimatization. Either you could hike up to Khumjung – Khunde or you can visit Sherpa museum where you see the things which are commonly used in Sherpa Community and also different flora and fauna from this area.
Day 06

Namche Bazaar – Tengboche (3863m)

The trail descends to the Dudh Kosi where you could have Spectacular views of Everest (8848m), Lhotse (8501m), Ama Dablam (6696m) and Khangtega (6779m) etc. Here you pass a little Village Phunki Thanga and climb up to Tengboche through the beautiful rhododendron forest and finally, you reach your destination and you feel glad to see the Panorama and the ancient buddhist monastery
Day 07

Tengboche – Dingboche (4412m)

You follow the Path down from Tengboche through the rhododendron forest to Dingboche and cross an exciting bridge with the boiling roaring Imja Khola beneath our feet. A gradual climb takes you to the village of Lower Pangboche.You are now in the heart of Khumbu with Spectacular views across to Ama Dablam. The afternoon stroll takes you along a Path that hugs the valley wall and then across wide plains to a split in the valley. The Khumbu breaks lift up to Pheriche, but you take a detour right to the hamlet at Dingboche at the start of the Imja – Tse valley.
Day 08

Dingboche

Here you spend one more day  at Dingboche for acclimatization. Either you can hike up to Chhukung or hike up there somewhere to acclimatize.
Day 09

Dingboche – Lobuche (4931m).

Now the route climbs up to the ridge behind Pheriche and continue trek to your destintion Lobuche with an excellent views of  Tawoche and Cholatse.
Day 10

Lobuche – Gorakshep (5140m)

Here, the beginning the way is flat but later it goes through rocky hills and sometime you may even feel exhausted due to its altitude. You reach there to Gorakshep (approx. 4 hrs) and after finishing your lunch you hike up the Everest Base camp approx. (3 hrs).
Day 11

Gorakshep – Pheriche (4240m)

Here, you start early to climb to Kalapatthar for Sunrise (approx 3 hrs) and you descend to your tea house and after completing your breakfast you walk down same way to Pheriche (approx. 4 hrs).
Day 12

Pheriche – Tengboche (3860m)

On the next day,the trail descends to Pangboche with the beautiful view of Mt. Amadablam, Lhotse etc. The way crosses the Imja stream and Passes through dense forest of Pine and finally, arrives at Tengboche. Here you could visit to Tengboche monastery and its surroundings.
Day 13

Tengboche – Namche Bazaar (3435m)

The trail descends directly to Phungi Thanga and crosses a long Suspension bridge. After that the trial gently ascends to Kyangjuma and finally, arrives at Namche Bazaar (approx. 6 hrs
Day 14

Namche – Lukla (2850m)

You descend to Dudhkosi river, Cross the several Suspension bridges. You follow the same route back to Lukla (approx. 7 hrs).
Day 15

Lukla – Kathmandu

After having your hot breakfast, you go to the airport for your return flight with the magnificent views of Kongde Himal, Mt.Everest along with the entire Khumbu and langtang ranges to Kathmandu and transfer to the Hotel.
Day 16

Kathmandu

After having your hot breakfast, you go to the airport for your return flight with the magnificent views of Kongde Himal, Mt.Everest along with the entire Khumbu and langtang ranges to Kathmandu and transfer to the Hotel.
Day 17

Airport

You will be picked up from your Hotel and transfer to the airport for your final departure.
Not satisfied with this itinerary?
Are you interested in planning a customized trip that suits you?
Includes/Excludes
What's included?
Arrival and departure transportation
Hotel in Kathmandu with breakfast
Kathmandu to Lukla/kathmandu flight tickets
All necessary paper work and permits (Everest National park and TIMS )
Trekking poles with company T-shirt
An experienced English-speaking Govt. registered trekking guide and local porters to carry luggage (2 trekkers: 1 porter)
Guide and porter salaries, insurance, equipment, transport, food and accommodations
Foods (Breakfast, Lunch and Dinner) with tea or coffee during the trek
All accommodation during the trek
What's excluded?
Kathmandu city tour guide and entrance fees

Lunch and dinner in Kathmandu

Deserts (cakes, bakes and pies)

Mineral Water

Boiled Water

Electronic device re- charge

Hot shower

Personal Expenses

Wi-fi

Travel Insurance and evacuations insurance

Tips for guide and porters
Useful Info
Required equipments and useful tips for your Trekking/ Hiking Tours:
The Hiking /Trekking generally goes through the high Himalayan passes, it may covers with full of snow so, we advise you to accompany a porter to carry your necessary stuffs. The porter usually carries 18 kgs of your luggage.We also expect you to carry a regular backpack for your valuables and required goods.
We as a travel operator suggest you to bring the basic clothing and accessories to the trek and the remaining  you can just leave/store at Himalayan Abode Trekking or at your Hotel in Kathmandu for free. Here are the basic list of usual equipments regarding your Trekking/ Hiking duration.
Winter hat/ Insulating hat/ Wide-brimmed hat
Headlight with an extra supplement batteries
Sunscreen
Sunglass with UV protection
Face/body wipes
Lightweight gloves
Heavyweight winter gloves
Sun hat or Scarf
Lightweight cotton pants
T-Shirt ( Lightweight wool)
Polypropylene underwear
Down jacket (available on hire in Kathmandu/ Pokhara)
Sweater
Hiking Boots
Thick wool socks (bring an extra pair of thick light socks)
Hiking Shirts/Long-Sleeved Shirt
Rain Jacket or Rain Coat
Fleece Jacket
Water sterilization tablets or liquids
Trekking/Hiking pole
Sleeping bag (-15 is recommended in high altitude trekking)
Towel
Toothbrush
Toothpaste
Deodorant floss
Thermal Bottle
Biodegradable bar soap
First aid kit etc.
FAQs
1.What is the Highest Altitude if this Trek?
The highest elevation of this trek is 5,545 m (Kalapatthar) and the trek goes through the Everest National Park.
2.What are the Mountains that we see during our trek?
3.What are the main indigenous group of this Region?
4.What are the main Vegetation of this Area?
5.What sort of Animals and Birds we can see in this Region
What sort of equipment do we need?
Reviews
Quelle belle experience, quelle belle aventure. Je remercie sincerment Nabin et Prabin pour leur ecoute, leur soutien et leur gentillesse.
Name: Rosi La Francesca
Address: Switzerland
Country:Switzerland
Email: samolo24@bluewin.ch

Rosi La Francesca

switzerland

Do you want to Go, Find & Explore?