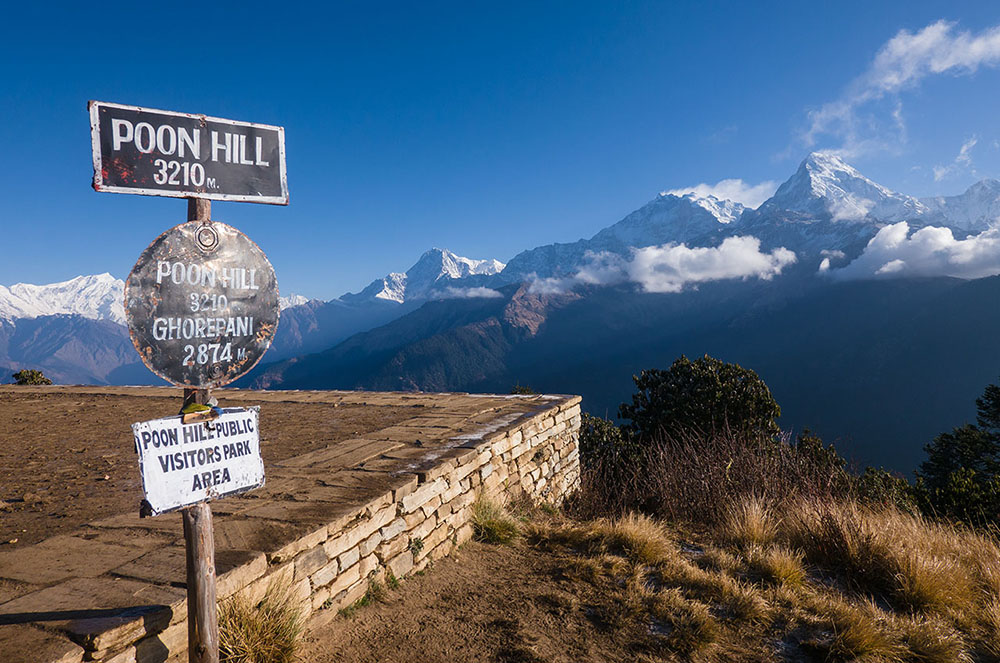 Overview
The Ghorepani Poonhill Trek  is one the famous treks of Annapurna region which can be done within 5 to 6 days. During this trek, we get opportunity to explore the forest side full of Rhododendron, Oak tree beautiful birds and other animal. The main attraction of trekking is Poon Hill (3210m) from where we can view breathtaking view of Mt. Fishtail 6,993m, Mt. Dhaulagiri 8167m,Annapurna South,Annapurna I 8091m,Tukuche Himal 6920m,Nilgiri 6940m and Himchuli 6441m. It is one of the shortest and easiest treks including major point of attraction like Ghandruk and Poon Hill. Ghandruk is also famous for internal tourist of Nepal. In Ghandruk one can take the Gurung cultural dress in rent takes some antique picture with it.
Ghorepani Poon Hill Trekking Highlight:
Trek to the beautiful area of the Annapurna region.
Different Vegetation basically different Colorful rhododendron.
Breathtaking view of Sunrise from Poon Hill (3,210 m).
Gorgeous view of the Annapurna mountain ranges such as; Dhaulagiri,Annapurna I, Annapurna South, Baraha Shikhar, Mt. Fishtail, Nilgiri, Hiunchuli etc.
Exploration of the Himalayan Gurung and Magar Community.
Ghorepani Poon Hill Trekking Difficulty:
The difficulty increases if you trek during the monsoon Season. During the monsoon there are heavy rainfalls which makes the trail muddy and Slippery and you also encounter the leech. You need to be Careful with your Steps. So,it is best to avoid trek there in the Monsoon. If you are an well experienced trekker, then you are Sure to enjoy in any Seasons.
 Brief Itinerary:
Day 01: Drive to toNayapul at 8.30 am and trek to Tikhedhunga (Tea house) (1,495m/4,905 ft), 3-4 hrs
Day 02: Trek to Ghorepani (Tea House) (2,850m/9,350ft). 6-7hrs
Day 03: Hike Poon hill (3210m/10528ft), and trek to Tadapani (2,520m/8268ft),(Tea House)
6-7 hrs
Day 04: Trek to Ghandruk (1,950m/6,398ft), (Tea House) 3-4 hrs
Day 05: Trek Ghandruk to Pothana(1910m/6266ft),(Tea House) 5-6 hrs
Day 06: Short trek to Phedi and drive to Pokhara (910m/ 2986ft), 3-4 hrs
Itinerary
Day 01

Drive to toNayapul at 8.30 am and trek to Tikhedhunga (Tea house) (1,495m/4,905 ft), 3-4 hrs

After breakfast in Lakeside (Pokhara) and 1 ½ hour car / van / hiace and bus drive according to group size to NayaPul and commence our trek to Birethanti, a large and prosperous riverside village beside the Modi River &BroomdiKhola.( stream). We head up the main trail and follow upstream of BroomdiKhola (stream) to Sudamefrom where the trail climbs gradually up to Hile (1495m). After 20 minutes of walking from Hile we will arrive at Tikhedhung and overnight at a lodge.
Day 02

Trek to Ghorepani (Tea House) (2,850m/9,350ft). 6-7hrs

From here the trail climbs steeply up toUlleri village with the amazing landscape and marvelous view of Annapurna South and Hiuchuli. We spend a pleasant day's trekking through rhododendron and oak forests. The scenery gives you inner power to climb up these steps and immerse you to walk more. After 7 hours of walking we finally reach at Ghorepani and spend a night there.
Day 03

Hike Poon hill (3210m/10528ft), and trek to Tadapani (2,520m/8268ft),(Tea House) 6-7 hrs

An early morning start for 45 minutes hike up to Poon hill (3210m/10530ft), the route offers the glimpse of the pleasant rhododendron forest. This brilliant viewpoint provides us an unobstructed sunrise over the high Himalayas and the wide range of panoramic scenery from the far western Himalaya.After a great time in Poon Hill, trek back to Ghorepani, breakfast and continue trek to Tadapani through thick pine and rhododendron forest with occasionally flat, more ascends and descends along the ridge
Day 04

Trek to Ghandruk (1,950m/6,398ft), (Tea House) 3-4 hrs

Today, we have short and pleasant walking day through the forested and downhill path with the view of the green forest and mountains and finally arrive at Ghandruk. It is the popular Gurung village where you can visit Gurung museum. We spend a night there.
Day 05

Trek Ghandruk to Pothana(1910m/6266ft),(Tea House) 5-6 hrs

The trail descends following the stone staircases to ModiKhola and crosses a suspension bridge. From here way ascends immortally to Landrung village and continues through scattered trees, bushes and village to Tolkha. We will stop here for lunch and continue our journey to Pothana through Deurali and green forest. Pothana is a small village from where you can see breathtaking view of Pokhara valley includingFewa Lake and Annapurna south. We spend a night there.
Day 06

Short trek to Phedi and drive to Pokhara (810m/ 2986ft), 3-4 hrs

From here, the trail descends down through jungle and reaches at Dhampus. It is nice village from where we will constantly descend through Dhanpus village to Phedi and catch a cab or car and drive to Pokhara. We spend a night there.
Not satisfied with this itinerary?
Are you interested in planning a customized trip that suits you?
Includes/Excludes
What's included?
Arrival and departure transportation
All necessary paper work and permits (Annapurna Conservation permit and TIMS )
Trekking poles with company T-shirt
An experienced English-speaking Govt. registered trekking guide and local porters to carry luggage (2 trekkers: 1 porter)
Guide and porter salaries, insurance, equipment, transport, food and accommodations
Pokhara to Nayapul by private transport
Phedi to Pokhara by private transport
Foods (Breakfast, Lunch and Dinner) with tea or coffee during the trek
All accommodation during the trek
What's excluded?
Deserts (cakes, bakes and pies)

Mineral Water

Boiled Water

Electronic device re- charge

Hot shower

Personal Expenses

Wi-fi

Travel Insurance and evacuations insurance

Tips for guide and porters
Useful Info
Required equipments and useful tips for your Trekking/ Hiking Tours:
The Hiking /Trekking generally goes through the high Himalayan passes, it may covers with full of snow so, we advise you to accompany a porter to carry your necessary stuffs. The porter usually carries 18 kgs of your luggage.We also expect you to carry a regular backpack for your valuables and required goods.
We as a travel operator suggest you to bring the basic clothing and accessories to the trek and the remaining  you can just leave/store at Himalayan Abode Trekking or at your Hotel in Kathmandu/Pokhara for free. Here are the basic list of usual equipments regarding your Trekking/ Hiking duration.

Sun hat or Scarf
Winter hat/ Insulating hat/ Wide-brimmed hat
Headlight with an extra supplement batteries
Sunscreen
Sunglass with UV protection
Face/body wipes
Lightweight gloves
Heavyweight winter gloves

Hiking shirts /Long-sleeved shirt
Rain jacket or Rain Coat
Fleece jacket
Lightweight cotton pants
T-Shirt ( Lightweight wool)
Polypropylene underwear
Down jacket (available on hire in Kathmandu/ Pokhara)
Sweater
Hiking Boots
Thick wool socks (bring an extra pair of thick light socks)

Thermal bottle
Water sterilization tablets or liquids
Trekking/Hiking pole
Sleeping bag (-15 is recommended in high altitude trekking)
Towel
Toothbrush
Toothpaste
Deodorant floss
Biodegradable bar soap
First aid kit etc.
FAQs
Where is located Ghorepani Poonhill ?
It is located in Annapurna Conservation area.
What sort of trek is it?
What is the main attraction of this Trek?
What are the main Ethnic groupes of the Area?
What are the Mountain that we can see?
What sort of vegetations are there?
Which is the best time to do this trek?
What sort of Equipments do we need to bring?
Do we see any Wild Animals?
How long we trek in a day?
Reviews
I would like to recommend to my friends for this friendly and nice agent!!! Very careful for every detail and willing to deal with any problem. We had a nice trip in Nepal. Thank you very much!!!
Name: Wu,
Address: Taichung
Country: Taiwan
Email: wmxyz@hotmail.com

Wu

Taiwan
It's really nice and pleasant in Nepal with Himalayan Abode. You just give your days or request to Himalayan Abode, they will do their best to fullfil it and even do better than your original plan. You don't need worry about anything when you're in Nepal, Himalayan Abode will take care of everything. You just simply enjoy your time in Nepal. ????
Name: Laiko
Address: Kaohsiung City
Country: Taiwan

Laiko

Taiwan

Do you want to Go, Find & Explore?