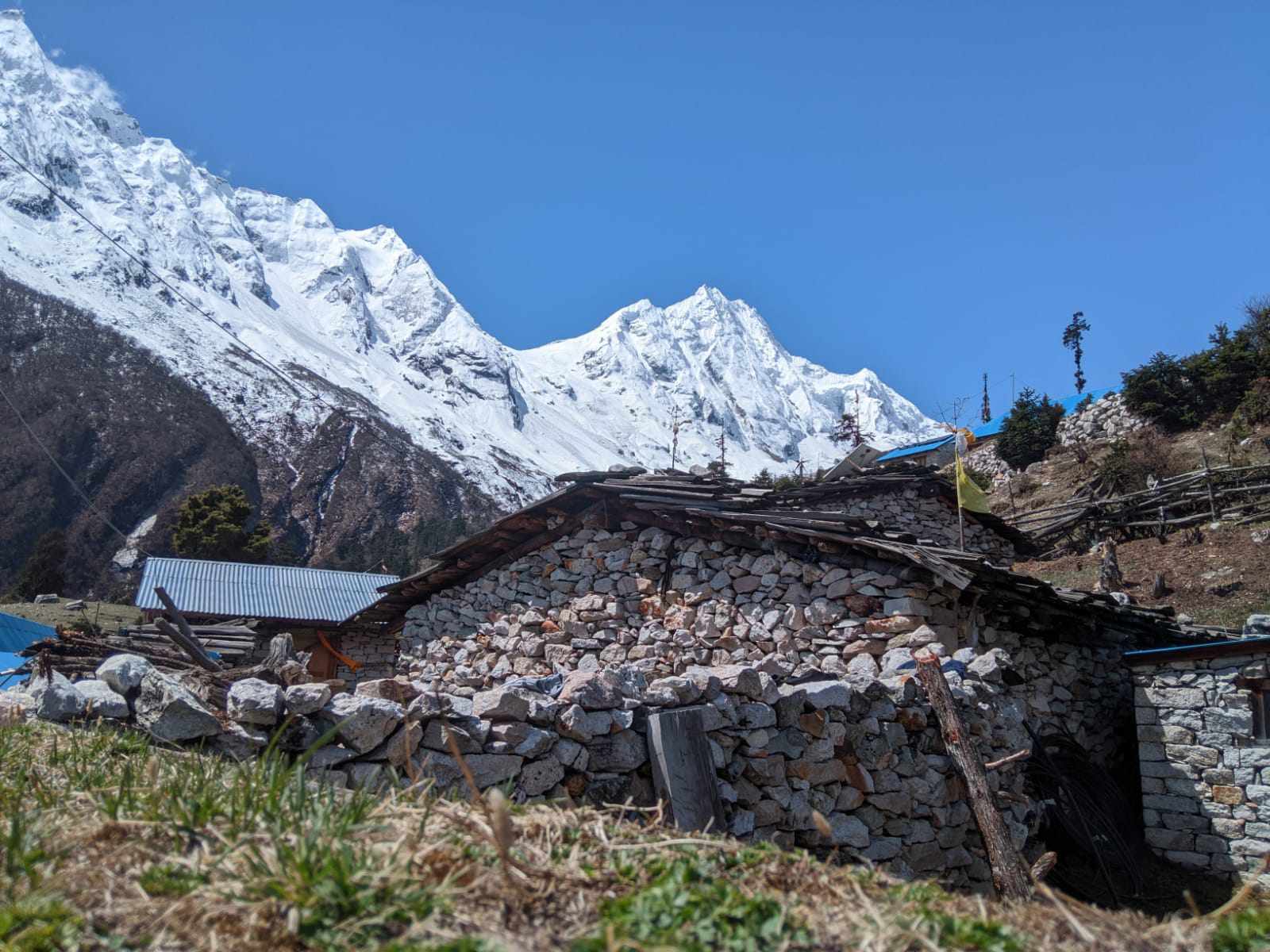 Overview
Manaslu Trek, one of the classic trek  in Nepal and it's a lifetime experience journey, trekking through a huge and Spectacular valley with stunning views of Mt.Manaslu (8156m), and crossing the famed Larkya La to the contrasting region of Sama. The regions & villages through which you trek are Predominantly Buddhist, and the remote areas surrounding Manaslu Base Camp are amongst Nepal's most beautiful, and with restricted access you see only few trekkers. We travel to the borderlands with Tibet, experience Tibetan Style Culture, great mountain views and extensive Forests on this Stunning circuit trek of the Manaslu region.
Manaslu Trekking Highlight
Gorgeous view of the mountain ranges such as Manaslu, Lamjung Himal, Himlung Himal and Cheo Himal
Exploration of the Himalayan indigenous groupes.
Exploration of the different buddhist Monasteries.
Best Time for Manaslu Trekking
The Manaslu Trekking can be done all round the year. But it's better to trek the Manaslu  in Autumn and Spring Seasons.
Autumn (September, October, November)
Autumn is the festive Season for Trekking for Trekkers from all around the world. The weather Conditions in the month of September, October and November are mostly Suitable for trekking in the Manaslu.
Autumn is one of the Peak Season in Nepal for trekking. The temperature during this season is quite fine neither hot nor Cold. If you wish to trek the Manaslu in autumn, you can also explore some of the major festivals in Nepal which are observed in autumn.
Spring (March, April, May)
Spring is one of the best time of the year when beautiful flowers are blooming and new leaves start to grow. The whole Environment becomes green which gives you fresh air and Pleases your eyes.
During Spring, Nepal looks even more beautiful in Nature. You will have Clearer scenic mountain views. The temperature and weather condition of the ManasluRegion is also favourable.
You may expect some light rainfall in late May. But, don't worry, the view you get to explore in the next morning is Splendid.
Manaslu Trekking Difficulty
Manaslu Trek is an adventurous trek of the Manaslu region
As you trek to a higher altitude, You might have some difficulty in breathing. The amount of Oxygen becomes thinner as you walk up to a higher altitude So, you may also face Acute Mountain Sickness.
The difficulty increases if you trek during the monsoon season. During the monsoon there are heavy rainfalls which makes the trail muddy and Slippery. You need to be Careful with your Steps. Therefore, it is best to avoid trek there in the Monsoon if you are a beginner. If you are an well experienced trekker, then you are sure to enjoy in any seasons.
Similarly, during the winter, the Manaslu area is precisely enclosed with snow. it may cause difficulty in walking and Passing the trails.
Itinerary
Day Day01

Airport – Hotel in Kathmandu (1,350m)

Once you arrive there at the airport,you will be Picked up and transfer to the Hotel.After your refreshment you can Just walk around your Hotel
Day Day02

Kathmandu (1,350m)

After having your breakfast,you begin your Sightseeing tour to the different Cultural heritage Sites from Kathmandu Valley such as; Bhaktapur " Popularly known as City of devotees", Pashupatinath " the most visited Hindu Pilgrimage Site" and Bauddhanath "the largest Stupa from Nepal" and you Just drive back to the Hotel and Stay Overnight.
Day Day03

Kathmandu – Sotikhola (710m)

You drive to Sotikhola. You will be driving on a Paved road till Dhading Bensi, district headquarter of Dhading but the drive from Dhanding Bensi to Arughat will be on a rough road which continues till Sotikhola.
Day Day04

Soti Khola – Maccha Khola (900m)

After Crossing the Suspension bridge to the left bank, Pass the forested area, follow the Path that looks like it is carved in the rock and you will reach Doban khola and finally arrives at Machha Khola where you Spend a night.
Day Day05

Maccha Khola – Jagat (1,410m)

On the next day, you begin your trip to Jagat and trail makes some minor ups and downs .After few ascending and descending, we come across a small Hot spring in Tatopani. From here, you climb over another ridge, then cross the Budhi Gandaki on a Suspension bridge. At this Juncture, you climb on a wide, well-crafted staircase, then across a landslide and over a ridge to Doban. Upon crossing a Suspension bridge over the Yaru  Khola, you climb the Stone stairs and then drop to the river and again climb more stone stairs to Tharo Bharyang. Crossing the west bank of the Budhi Gandaki, you climb over a ridge, trek along the river and then climb towards the village of Jagat.
Day Day06

Jagat -Deng (1,804m)

You begin your trek by climbing over a rocky ridge to Salleri, and then descend to Sirdibas. We continue walking upstream to a long Suspension bridge in Phidim, a large Gurung village from where the trail turns north Just above the lowest house in the village and stays on a fairly level trail as it crosses millet fields to Ekle Bhatti. The route now enters a steep, uninhabited gorge. At this point, you descend to the grass land slopes, cross the Budhi Gandaki, then trek along the west bank for a while, then cross to the east bank and then back again. As you continue through the trail the valley widens and we Pass through bamboo forests to the Deng where we spend a night.
Day Day07

Deng – Namrung (2,630m)

Here, the trail crosses the Budhi Gandaki and climb to Rana at 1910m. You continue your journey through forests and Mani where you turn towards a corner that contours to Ghap. Even though there is another route, you take the route through Prok village. Prok village has a viewpoint for a beautiful Sight of Siringi Himal. We further cross the Budi Gandaki Several times today and come across several Gompas en route. The trail follows the river upstream through a dense forest. After crossing the river at an impressive spot where it thunders down a narrow gorge, the forest becomes less dense and the trail is fine again. The pleasant walk continues and after a last steep climb you reach Namrung where you Stay overnight.
Day Day08

Namrung to Lho (3,100m)

Another attractive Place for the best view of Manaslu (8156m) and Late afternoon  trip to Monasteries  and Stay Overnight.
Day Day09

Namrung – Samagaon (3,530m)

Here, you climb steadily and Pass through the forests and reach Lihi, a fine village with many Chortens and barley terraces. The trail drops and crosses the side valley of Simnang Himal with Ganesh Himal always close by. You further Pass through Sho Lho and Shyala villages before reaching Sama Village.You enjoy extraordinary views of Mt. Manaslu from Lho village and also explore the famous Ribung Gompa. In Shyala village you will be surrounded by high mountains like Himal Chuli and Peak 29 (Ngadi Chuli).
Day Day10

Samagaun

Sama gaon is a Small beautiful village where you Spend another night for acclimatization. Today, you explore around Sama gaon and visit an old Gompa (Pungyen Gompa), a monastery with great views of the glacier. It is named after Manaslu, Pungyen Literally means bracelet, a good description of the two peaks. It was destroyed a year after the first unsuccessful Japanese attempt to climb Mt.Manaslu.
Day Day11

Samagaon – Samdo (3,860m)

Here, you descend to the Budhi Gandaki river, that has turned north and follow it to a bridge over a Side stream. The trail to the left leads to the Manaslu Base Camp. The Larkya la trail passes Several Mani walls as the valley begins to widen. It is an easy trail on a shelf above the river passing the juniper and birch forests of Kermo Kharka. You drop off the Shelf, Cross the Budhi Gandaki on a Wooden bridge and climb Steeply onto a promontory between two forks of the river and finally arrives at Samdo and stay Overnight
Day Day12

Samdo to Dharamsala (4,460m)

The trail descends in the beginning and, crosses the wooden bridge over Budi Gandaki and begins walking upward. Upon crossing two streams and witnessing the Larkya Glacier we go around the valley of the Salka Khola and climb up again to the Stone Guest house (4,450 m), which is not a lodge but a kind of Shelter called Dharamshala, also known as Larke Phedi where you Spend a night.
Day Day13

Dharamsala – Bimthang (3,720m)

After a Short climb, you reach a valley on the north side of the Larkya Glaciers from where you can enjoy great views of Cho Danda and Larkya Peak. Finally, you walk across moraines of the Glacier, making a gradual ascent which becomes Steeper only in the last Section of the Pass. From the pass, here is an outstanding views of Himlung Himal, Cheo Himal, Kangguru and the huge Annapurna II. It is a long day than usual to Bimtang, but to walk into these low Pastures with the evening mist coming in with Mt. Manaslu looming Close by is an Overwhelming experience and Stay a night there.
Day Day14

Bimthang -Tilije (2,300m)

As usual,you start the trek with the views of Mt. Manaslu, Lamjung Himal, Himlung Himal and Cheo Himal. you descend further and cross a high Pasture (Sangure Kharka) followed by a bridge over Dudh Khola continues through rhododendron forest and follow a trail through a narrow valley until you reach the highest cultivated land of the valley at Karche, 2,785 m. You pass the Guha village and finally arrives at Tilije where you spend a night.
Day Day15

Tilije – Tal (1,700m)

You climb over a small ridge and enjoy the stone Paved trail as it passes through a beautiful village. You then cross the bridge over Dudh Khola and climb up through a Chorten-shaped arch, pass a Mani wall and reach the Thonje village. At the village, you go through a Police checkpoint and continue to Dharapani. You enter the Annapurna circuit section from Dharapani. Further down, You come across Karte village and after quite a bit of walking you cross a bridge over Marshyangdi Khola. You also come across some Mani walls before reaching the village of Tal, Situated at the foot of a large waterfall. Stay Overnight.
Day Day16

Tal -Syange (1,080m)

You follow the trail to Chyamje village crossing the Marshyangdi Khola. The Marsyandi valley opens with its terrace fields and villages clung very high to the hillsides. The trail then descends through rhododendron and Pine forests to Syange. Overnight in Syange.
Day Day17

Syange – Kathmandu:

You catch a Jeep and drive to Kathmandu via Bensi Sahar offers an opportunity to enjoy both hill and mountain landscapes. The drive is often along the banks of the Marshyangdi and Trishuli rivers and by the evening you arrive in Kathmandu and stay Overnight at hotel.
Day Day18

Final Drop to Airport

You will be picked up from your Hotel and transfer to the airport for your final departure.
Not satisfied with this itinerary?
Are you interested in planning a customized trip that suits you?
Useful Info
Required equipments and useful tips for your Trekking/ Hiking Tours:
The Hiking /Trekking generally goes through the high Himalayan passes, it may covers with full of snow so, we advise you to accompany a porter to carry your necessary stuffs. The porter usually carries 18 kgs of your luggage.We also expect you to carry a regular backpack for your valuables and required goods.
We as a travel operator suggest you to bring the basic clothing and accessories to the trek and the remaining  you can just leave/store at Himalayan Abode Trekking or at your Hotel in Kathmandu for free. Here are the basic list of usual equipments regarding your Trekking/ Hiking duration.
Winter hat/ Insulating hat/ Wide-brimmed hat
Headlight with an extra supplement batteries
Sunscreen
Sunglass with UV protection
Face/body wipes
Lightweight gloves
Heavyweight winter gloves
Sun hat or Scarf
Lightweight cotton pants
T-Shirt ( Lightweight wool)
Polypropylene underwear
Down jacket (available on hire in Kathmandu/ Pokhara)
Sweater
Hiking Boots
Thick wool socks (bring an extra pair of thick light socks)
Hiking Shirts/Long-Sleeved Shirt
Rain Jacket or Rain Coat
Fleece Jacket
Water sterilization tablets or liquids
Trekking/Hiking pole
Sleeping bag (-15 is recommended in high altitude trekking)
Towel
Toothbrush
Toothpaste
Deodorant floss
Thermal Bottle
Biodegradable bar soap
First aid kit etc.

Do you want to Go, Find & Explore?