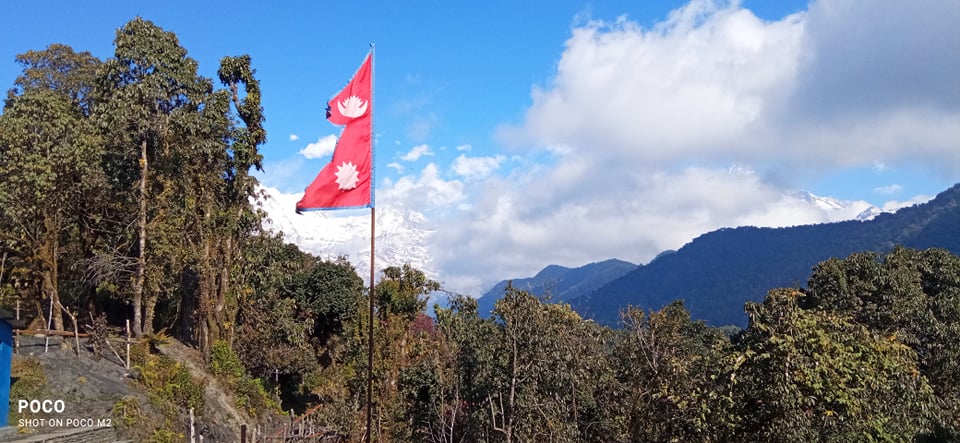 Overview
There are many different Popular trekking destinations in Nepal. Mardi Himal Trek is a short, newly opened, moderate and hidden treasure in the Annapurna region.The trek route goes through the beautiful typical Nepalese settlements, lush valleys, alpine meadows, green dense forest of rhododendron, numerous streams and waterfalls with the magnificent mountain views. Mardi Himal trek offers an amazing view of Annapurna, Dhaulagiri, Machhapuchre and Manaslu etc.During the trek you walk through the beautiful hills of rhododendron forest where you could explore different Flora and Fauna from Nepal.
Mardi Himal Trekking Highlight
• Trek to the remote and untouched area of the Annapurna region.
• Gorgeous view of the mountain ranges such as Mt. Fishtail, Mt Annapurna, Annapurna South etc
• Exploration of the Himalayan Gurung Community.
Mardi Himal Trekking Difficulty
The difficulty increases if you trek during the monsoon season. During the monsoon there are heavy rainfalls which makes the trail muddy and Slippery and you also encounter the leech. You need to be Careful with your Steps. Therefore, it is best to avoid trek there in the Monsoon if you are a beginner. If you are an well experienced trekker, then you are sure to enjoy in any seasons.
Itinerary
Day Day01

Drive to Kande and Trek to Deurali

After having breakfast you drive to Kande and continue trek to Pitam Deurali via Australian Camp and Pothana and Stay Overnight in a tea house with an outstanding view of Mt.Dhaulagiri and Annapurna mountains.
Day Day02

Trek to Low Camp

As usual after having breakfast you continue trek to Low Camp via Forest Camp and Stay Overnight in a tea house.
Day Day03

Trek to High Camp

You Continue trek to High Camp. During the trek You do have Spectacular view of Mt.Machhapuchhre ahead and Annapurna South to the left and Stay Overnight in a tea house.
Day Day04

Hike to Mardi Himal Base Camp and Trek down to Badal Danda

Here,You hike to Mardi Himal Base Camp (4500m) and hike down to High Camp then continue trek down to Badal Danda and Stay overnight in a tea house.
Day Day05

Trek Badal Danda To Siding and drive to Pokhara

After having breakfast with an excellent view of the Himalayas, you trek down to Siding and drive bak to Pokhara and Stay overnight at Hotel in Lakeside.
Not satisfied with this itinerary?
Are you interested in planning a customized trip that suits you?
Useful Info
Required equipments and useful tips for your Trekking/ Hiking Tours:
The Hiking /Trekking generally goes through the high Himalayan passes, it may covers with full of snow so, we advise you to accompany a porter to carry your necessary stuffs. The porter usually carries 18 kgs of your luggage.We also expect you to carry a regular backpack for your valuables and required goods.
We as a travel operator suggest you to bring the basic clothing and accessories to the trek and the remaining  you can just leave/store at Himalayan Abode Trekking or at your Hotel in Kathmandu/Pokhara for free. Here are the basic list of usual equipments regarding your Trekking/ Hiking duration.
Winter hat/ Insulating hat/ Wide-brimmed hat
Headlight with an extra supplement batteries
Sunscreen
Sunglass with UV protection
Face/body wipes
Lightweight gloves
Heavyweight winter gloves
Sun hat or Scarf
Lightweight cotton pants
T-Shirt ( Lightweight wool)
Polypropylene underwear
Down jacket (available on hire in Kathmandu/ Pokhara)
Sweater
Hiking Boots
Thick wool socks (bring an extra pair of thick light socks)
Hiking Shirts/Long-Sleeved Shirt
Rain Jacket or Rain Coat
Fleece Jacket
Water sterilization tablets or liquids
Trekking/Hiking pole
Sleeping bag (-15 is recommended in high altitude trekking)
Towel
Toothbrush
Toothpaste
Deodorant floss
Thermal Bottle
Biodegradable bar soap
First aid kit etc.

Do you want to Go, Find & Explore?