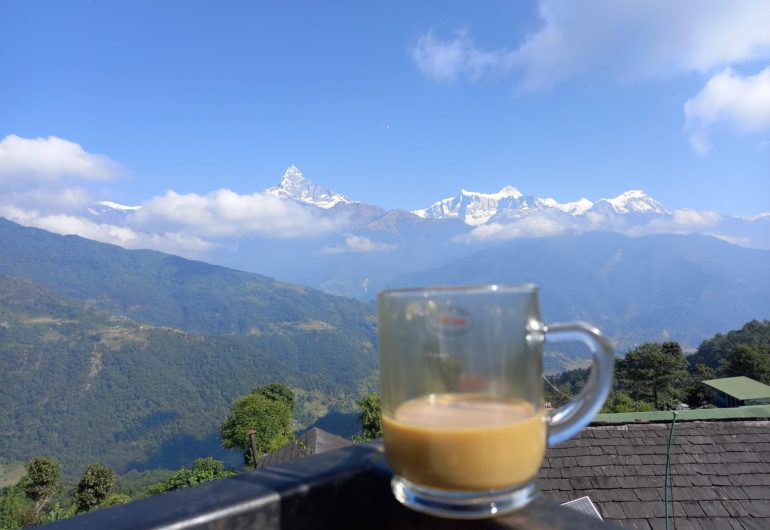 Overview
Australian Camp Trek is quite easy and moderate trekking of the Annapurna region. The Trek goes through the beautiful terraces and the landscape from the Annapurna hills. The trekking trail passes by several typical villages dominated by the Gurungs with panoramic views of the Annapurna mountain ranges including Mt. Machhapuchhre.
Highlights of the Australian Camp Trek
The most popular and easiest trek from where you can behold the panoramic scenery of Fishtail, Mt. Dhaulagiri, Annapurna South, and Hiunchuli along with the green views of the countryside.
It is the shortest trek and you can observe the unique culture of the ethnic groups (mainly Gurung and Magar)
It is suitable for both children to Adult people who have only limited time to travel in Nepal during their visit.
The best season for this trek
This trek is one of the easiest treks of Annapurna which is located near Pokhara. It can be done at any time of the year (In summer, autumn, winter, and spring)
Brief Itinerary:
Day 01: Kathmandu to Pokhara (6-7 hrs approx)
Day 02: Pokhara to Ghandruk (5-6 hrs approx)
Day 03: Ghandruk to Tolka (5- 6 hrs approx)
Day 04: Tolka to Australian Camp (3 hrs approx)
Day 05: Australian Camp to Naudanda and drive to Pokhara
Day 06: Stay at Pokhara
Day 07: Pokhara to Kathmandu
Day 08: Final departure
Itinerary
Day Day01

Kathmandu(1350m) to Pokhara(850m) (6-7 hrsapprox)

Drive to Pokhara through the Prithivi Highway along the Trisuli river and stay overnight in the Lakeside with the fantastic view of the Phewa Lake and the Annapurna mountains.
Day Day02

Pokhara to Ghandruk(1900m) (5-6 hrsapprox)

Drive to Nayapul(1070m) which takes one and half hours and trek to Ghandruk through the beautiful countryside with the panoramic views of Mt. Fishtail, Annapurna southand Gangapurna. The way gently climbs up from Syaulibazaar and finally arrives at Ghandruk which take around 6/7 hours
Day Day03

Ghandruk to Tolka(1900m) (5- 6 hrsapprox)

Ghandruk is a huge Gurung village from where the trail descends to Kyumi bridge and a short climb to Landruk. It is one of the beautiful villages. From here, we continue to Tolka with the beautiful scenery of green countryside. We spend a night there.
Day Day04

Tolka to Australian Camp(2055m) (3 hrsapprox)

On the next day, we start the trek after breakfast. The way goes through dense forest and finally arrives at Deurali. From here the trail continues through green jungle to Pothana and arrives at Australian camp at last.Australian Camp is a beautiful village best known for its sunrise, sunset and view of Annapurna range, Machhapuchhre and also beautiful green hills. We stay a night there.
Day Day05

Australian Camp to Naudanda and drive to Pokhara

The journey from Australian Camp to Naudanda very easy through nice trail. We walk through jungle from Australian camp to Naudand with view of Mt. fishtail and Annapurna South. We catch the private transport from Naudanda drive to Pokhara
Day Day06

Stay at Pokhara

We do the full day sightseeing in the different natural and cultural places from Pokhara like; Bindebasini Temple, Seti George, Devi's Fall, Gupteswore Cave, Old Bazar, Tal Barahi Temple etc and stay overnight in the Lakeside.
Day Day07

Pokhara to Kathmandu

Drive/fly back to Kathmandu and stay overnight at Hotel
Day Day08

Final Departure

The driver will drop you to the airport for your final departure
Not satisfied with this itinerary?
Are you interested in planning a customized trip that suits you?
Includes/Excludes
What's included?
Arrival and departure transportation
Hotel in Kathmandu with breakfast
Kathmandu to Pokhara by Tourist Bus
All necessary paper work and permits (Annapurna Conservation permit and TIMS )
Trekking poles with company T-shirt
An experienced English-speaking Govt. registered trekking guide and local porters to carry luggage (2 trekkers: 1 porter)
Guide and porter salaries, insurance, equipment, transport, food and accommodations
Pokhara to Phedi by private transport
Nayapul to Pokhara by private transport
Foods (Breakfast, Lunch and Dinner) with tea or coffee during the trek
All accommodation during the trek
2 Nigh Hotel in Pokhara with Breakfast.
Pokhara-Kathmandu by Flight
Reviews
I recently embarked on an unforgettable journey to the majestic Himalayas with Himalayan Abode Travel and Tours, Treks, and Expedition Pvt. Ltd., and I couldn't be more pleased with my experience. From the moment I contacted them to the final farewell, it was nothing short of exceptional.

Mr. Nabin, the owner of the company, deserves a special mention. He was not only a pleasant and accommodating person but also someone who delivered on every commitment he made. His professionalism and dedication to ensuring a memorable trip were truly commendable.

During our adventure, we were fortunate to have Mr. Bikram Thapa as our guide. Mr. Thapa was not just a guide; he was a walking encyclopedia of Himalayan knowledge. His passion for the region, combined with his in-depth understanding of the terrain and culture, enriched our journey in ways we couldn't have imagined. Moreover, his politeness and incredible patience made every moment enjoyable and stress-free.

I can't express enough appreciation for the Himalayan Abode team's unwavering commitments and their warm hospitality. The entire trip felt like an adventure among friends, thanks to their personal touch and attention to detail.

If you're planning a Himalayan adventure, I wholeheartedly recommend Himalayan Abode Travel and Tours. Your journey will be more than just a trip; it will be a life-changing experience, and you'll be in the capable hands of Mr. Nabin and the extraordinary Mr. Bikram Thapa.

Arindam Neogi

Bangledesh

Do you want to Go, Find & Explore?