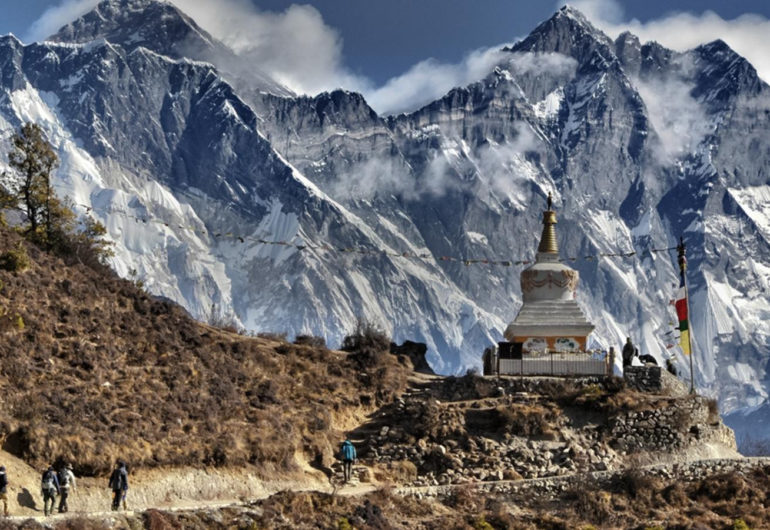 Overview
Helambu Trek is a Perfect trek nearby Kathmandu Valley which can be done within a week. Despite being So Close to Kathmandu, the Helambu region remains relatively un–spoilt. Besides the Hyolmo Culture of high mountain People, the Company of green rhododendron and bamboo forests, majestic waterfalls and Snow–capped Himalayas make the trek one of the most diverse treks near Kathmandu. The great Himalayan Scenery at the border with Tibet and monasteries make a trek to the region an enthralling experience. The trek begins from Sundarijal and ends at Melamchi Bazaar. It is not a complicated trek but very interesting trail due to its Panoramic mountain views and unique Culture of Sherpa People. Here, the number of trekkers are less than in the Everest, Annapurna and Langtang region and good lodges are abundant and uncrowned.
Helambu Trekking Highlight
Gorgeous views of the mountain ranges such as Ganchhenpo, Langtang Himal, Langsisa, Bhairab Takura, Dorje Lhakpa, Yala and Langtang Lirung and many more.
Exploration of the Himalayan Tamang and Sherpa Community.
Exploration of the different buddhist Monasteries.
Best Time for Helambu Trekking
The Helambu Trekking can be done all round the year. But it's better to trek the Helambu in Autumn and Spring Seasons.
Autumn (September, October, November)
Autumn is the festive Season for Trekking for Trekkers from all around the world. The weather Conditions in the month of September, October and November are mostly Suitable for trekking in the Helambu.
Autumn is one of the Peak Season in Nepal for trekking. The temperature during this Season is quite fine, neither hot nor Cold. If you wish to trek the Helambu in autumn, you can also explore Some of the major festivals in Nepal which are observed in autumn.
Spring (March, April, May)
Spring is one of the best time of the year when beautiful flowers are blooming and new leaves Start to grow. The whole Environment becomes green which gives you fresh air and Pleases your eyes.
During Spring, Nepal looks even more beautiful in Nature. You will have Clearer Scenic mountain views. The temperature and weather condition of the Helambu region is also favourable.
You may expect Some light rainfall in late May. But, don't worry, the view you get to explore in the next morning is Splendid.
Helambu Trekking Difficulty
Helambu Trek is a moderate and easy Trek.As you trek to a higher altitude, You might have Some difficulty in breathing.The difficulty increases if you trek during the monsoon Season. During the monsoon, there are heavy rainfalls which makes the trail muddy and Slippery. You need to be Careful with your Steps. Therefore, it is best to avoid trek there in the monsoon if you are a beginner. If you are an well experienced trekker, then you are sure to enjoy in any Seasons.
Itinerary
Day 01

Kathmandu-Sundarijal – Chisapani

Here, You drive by Car to Sundarijal and enter to the Shivapuri National Park and trek to Chisapani..From Sundarijal, the trail heads up to the Concrete Steps beside the Water Pipeline which Supplies the drinking water for Kathmandu valley. We leave the pipeline near the dam and continue trek to Chisapani and Stay Overnight.
Day 02

Chisapani – Kutumsangu

Afetr having breakfast trek to Kutumsangu. From here, the trail leads down to a lovely Small village called Pati Bhanjyang then continues up and then down to the village of Gul Bhanjyang. The trail is up and down again along the rocky route to Kutumsangu
Day 03

Kutumsangu – Tharepati

Kutumsangu is a beautiful village from here, the trail continues via lightly Populated forest to Magen Goth from where the view of Langtang and Gosainkunda Peak is Stunning and finally arrives at Tharepati.
Day 04

Tharepati – Tarke Gyang

On the next day, the trail rapidly descends down a ravine through small Sherpa village of Melamchi gaon where you can visit an old and artistic Gompas. From here, the route again descends leaving the village and Crosses the river over a bridge and making the long climb up the other Side of the valley to Tarke Gyang. It is a largest village in Helambu.
Day 05

Tarke Gyang – Sermathang

From here, the trail Slowly descends through a beautiful forest to Sermathang. It is the Centre of an important apple growing area from where a fantastic view of the Himalayas can be seen.
Day 06

Sermathang ( Acclimatization day)

You do have whole day to acclimatize and explore around the village.
Day 07

Sermathang- Melamchi Bazaar

After having breakfast, you follow the trail along the ridge all the way down to Melamchi. After Passing a large Gompa at the Southern end of the village, the trail undulates along the west side of the ridge, Passing numerous Chortens before dropping down to Kakani. From here, the trail descends again to the Small village of Dubochaur and Continues to descend even more Steeply across the ridge to the Junction of the Indrawati and Melamchi rivers.You Cross the Suspension bridge Over the Melamchi river to reach at Melamchi Bazaar and Stay Overnight.
Day 08

Melamchi – Kathmandu

Drive back by bus to Kathmandu
Day 09

Final Departure to Airport

Here, you drive to the airport for your final departure transfer.
Not satisfied with this itinerary?
Are you interested in planning a customized trip that suits you?
Fixed Departure
Select Month
Jan
Feb
Mar
Apr
May
Jun
Jul
Aug
Sep
Oct
Nov
Dec
| Start Date | End Date | Availability | |
| --- | --- | --- | --- |
| 1 Oct, 2023 | 8 Oct, 2023 | OPEN | Enquire |
| 8 Oct, 2023 | 15 Oct, 2023 | OPEN | Enquire |
| 22 Oct, 2023 | 29 Oct, 2023 | OPEN | Enquire |
| 1 Nov, 2023 | 8 Nov, 2023 | OPEN | Enquire |
| 12 Nov, 2023 | 19 Nov, 2023 | OPEN | Enquire |
| 5 Dec, 2023 | 12 Dec, 2023 | OPEN | Enquire |
| 24 Dec, 2023 | 31 Dec, 2023 | OPEN | Enquire |
| 20 Sep, 2024 | 27 Sep, 2024 | OPEN | Enquire |
Includes/Excludes
What's included?
All necessary paper work and permits
Trekking poles with company T-shirt
An experienced English-speaking Govt. registered trekking guide and local porters to carry luggage (2 trekkers: 1 porter)
Guide and porter salaries, insurance, equipment, transport, food and accommodations
Foods (Breakfast, Lunch and Dinner) with tea or coffee during the trek
All accommodation during the trek
Kathmandu to Sundarijal by private transpotation  and Melamchi to Kathmandu Bus
What's excluded?
Deserts (cakes, bakes and pies)

Mineral Water

Boiled Water

Electronic device re- charge

Hot shower

Personal Expenses

Wi-fi

Travel Insurance and evacuations insurance

Tips for guide and porte
Useful Info
Required equipments and useful tips for your Trekking/ Hiking Tours:
The Hiking /Trekking generally goes through the high Himalayan passes, it may covers with full of snow so, we advise you to accompany a porter to carry your necessary stuffs. The porter usually carries 18 kgs of your luggage.We also expect you to carry a regular backpack for your valuables and required goods.
We as a travel operator suggest you to bring the basic clothing and accessories to the trek and the remaining  you can just leave/store at Himalayan Abode Trekking or at your Hotel in Kathmandu for free. Here are the basic list of usual equipments regarding your Trekking/ Hiking duration.
Winter hat/ Insulating hat/ Wide-brimmed hat
Headlight with an extra supplement batteries
Sunscreen
Sunglass with UV protection
Face/body wipes
Lightweight gloves
Heavyweight winter gloves
Sun hat or Scarf
Lightweight cotton pants
T-Shirt ( Lightweight wool)
Polypropylene underwear
Down jacket (available on hire in Kathmandu/ Pokhara)
Sweater
Hiking Boots
Thick wool socks (bring an extra pair of thick light socks)
Hiking Shirts/Long-Sleeved Shirt
Rain Jacket or Rain Coat
Fleece Jacket
Water sterilization tablets or liquids
Trekking/Hiking pole
Sleeping bag (-15 is recommended in high altitude trekking)
Towel
Toothbrush
Toothpaste
Deodorant floss
Thermal Bottle
Biodegradable bar soap
First aid kit etc.

Do you want to Go, Find & Explore?