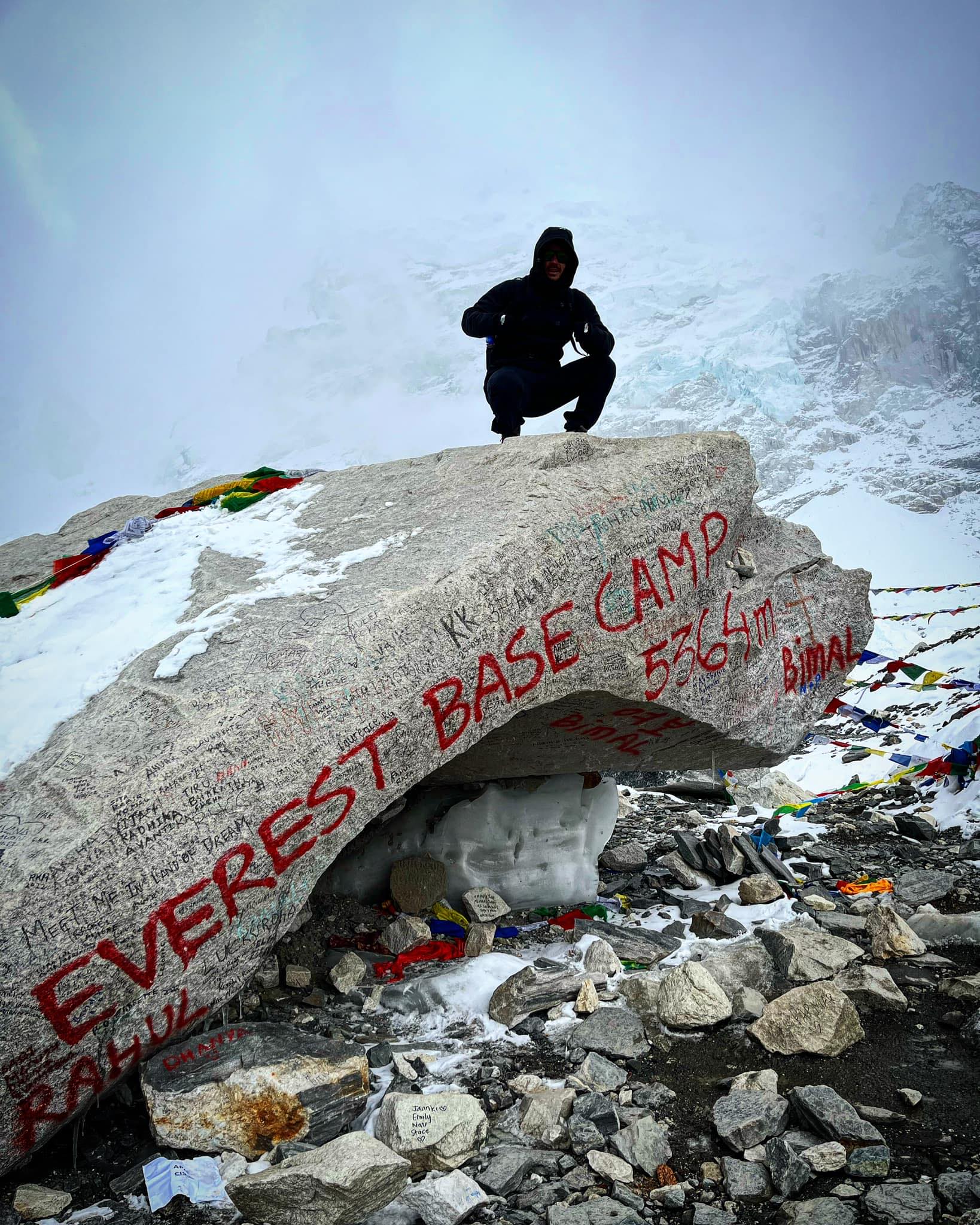 Overview
Jiri to the Everest Base Camp is one of the most popular of the longer treks available. This trek offers a number of stunning views of mountain including Mt. Everest the highest mountain in the world. The Everest trek involves a tremendous amount of uphill and downhill walking
Itinerary
Day 01

Kathmandu to Jiri (1955m.)

Drive by bus via the Arniko highway to Jiri which takes around 11 hours. On the way you can see the scenic views of some mountains and green countryside. We stay a night there.
Day 02

Jiri to Bhandar (2190m.)

Today, we begin the trek with a climb to the ridge top at 2370m then drops down to Shivalaya at 1750m. From Shivalaya it climbs again to SangbaDanda., Deurali Pass. From DeuraliDanda it descends again to Bhandar, a small Sherpa village with a Tibetan Buddhist monastery where we spend a night.
Day 03

Bhandar to Sete (3100m.)

The way drops down to the LinkhuKhola, crosses the river and treks along it to Kenja at 1570m. Now the long ascend to the LamjuraBhanjyang Pass begins. It then traverses to Sete village where we stay a night.
Day 04

Sete to Junbesi (2680m.)

From here the trail passes gradually up through Lamjura Pass (3530m.). Then after, the trail then descends through fir and rhododendron forest and emerges after one and half hrsat Taktor. Traverse on the north side of the valley round a notch before dropping own to the Sherpa village of Junbesi for an overnight stop.
Day 05

Rest day at Junbesi(2680m)

The region around Junbesi is well worth exploring and a day spent here can offer a variety of alternatives. Two hrs walk to the north of Junbesi is the village of Phugmochhe (3100m.) where there is a traditional Sherpa art center. En-route to Phugmochhe a short diversion will allow a visit to ThubenChhuling, a huge Tibetan Buddhist monastery.
Day 06

Junbesi to Nunthala (2330m.)

Below Junbesi the trail crosses the JunbesiKhola on a wooden bridge. Just beyond the bridge there is a trail junction. The route to Khumbu follows the left-hand trail that leads uphill. This trails turns north, descending through Salung. From the Dudhkoshi River the trail ascends to Ringmo and the TrakShidno Pass. There are a few shepherds' huts beside the trail, but the route is mostly hidden in dense forest. The trail crosses several picturesque streams on wooden bridges just before reaching Nunthala where we stay a night
Day 07

Nunthala to BupsaDanda (2100m.)

From the Nunthala, the trail continues to the Dudhkoshi and crosses it to follow the other bank. It then descends steeply forests to a Chautara (resting place) overlooking the river. It follows the river for a while through forests then it climbs through terraces to reach the Rai village of Jubing (1667m). It climbs through the village around a ridge and aims for a prominent notch. From this notch we contour to the village of KhariKhola (2004m) to push on up the steep hill to BupsaDanda.
Day 08

BupsaDanda to Surke (2290m)

The trail descends from KhariKhola village and crosses a stream of the same name via a suspension bridge near some water driven mills at 2010m. After a steep climb to Bhupsa or Bhumsing (2300m), the trail continues to climb through a tributary valley filled with prickly leaned oak and rhododendron forest. It descends (305m) and crosses the next tributary after one hour. Continue on the north side of the valley to reach Puiyan (2796m) for an overnight stay.
Day 09

Surke to Phakding (2610m)

The trail climbs for about an hour after puiyan to the ridge at 2800m followed by another ridge. The trail descends to Sukhe (Buwa) at 2293m situated on a tributary of the Dudhkoshi. The trail remains above the village circling it like an expressway. The village of Surkhe, at the bridge crossing the tributary below, is 2 hrs from Puiyan. The trail now leaves the tributary valley and heads more directly north towards Chaurikharka, another dispersed village. Before ascending to Chaurikharka 2713m the main trail crosses a spectacular deep gorge with a high waterfall 2408m and overnight stay at Phakding.
Day 10

Phakding to Namche Bazaar (3435m)

From Phakding the trail continues to Chhumawa with the beautiful scenery of waterfalls then crosses a long expansion bridge and gets at Monju and Jorsale where we stop for Lunch. After that we cross thrice the Dudhkosi River and from the last suspansion bridge the trail ascends till Namche bazaar around 3 hours. It takes around 7 hours from Phakding to Namche Bazaar.
Day 11

At Namche for acclimatization

You have whole day free at Namche Bazaar for acclimatization where you can visit Sherpa museum and army camp to see the Everest view along with detail information for flora and fauna that can be found in this region. After that, we come back to the hotel and will spend the time by wandering around Namche Bazaar.
Day 12

Namche Bazaar to Tengboche (3860m)

After breakfast the trek continues to PhunkiThanga for launch. After launch it ascends another 2 hrs to reach Tengboche and pay a visit to the monastery with the guide.
Day 13

Tengboche to Dingboche (4210m)

Today we walk through Tangboche village, the site of relics claimed to be a Yeti?s scalp and the fingers of a hand. These are kept in the Tangboche monastery and can be seen with the guide.
Day 14

Rest day at Dingboche(4210m)
Day 15

Dingboche to Lobuche (4910m)

This trail gives a good view of Pumori. This section also provides good views of Lhotse, the Khumbuvalley and Amadablam.
Day 16

Lobuche to Gorekshep(5140m) and Everest Base Camp(5364m/17598ft)

Lobuche is a small place where only a few lodges are available. The way is flat at the beginning but later it goes through rocky landslide and sometime you may feel exhausted due to its altitude. We go directly to Gorekshep for lunch which takes approximately 5 hours than we will continuous more adventure with goal of trip Everest Base Camp(5364m/17598ft)
Day 17

Gorekshep to Pheriche (4240m)

Gorekshep is the last destination of this trek where we spend a night. On the next day, we climb up to Kalapathar(5545m) which may takes about 4 hours. Kalapathar is the popoular view point from where you can see the Mt. Everest, Lhotse, Pumori, the Khumbu ice fall and sunrise. After that, we will descend down to
Gorekshep, have breakfast and continue our joueny back to Pheriche.
Day 18

Pheriche to Tyangboche (3860m)

On the next day, we will constantly descend down to Pangboche with the beautiful view of Mt. Amandablam, Lhotse and Tyanboche monastery. The way crosses the Imja stream and passes through dense forest of pine and finally arrives at Tyangboche. By the Evening, we visit the Tyangboche monastery which is one of the oldest monasteries of Everest region.
Day 19

Tyangboche to Namche Bazaar

The way descends directly to PungiTanga and crosses a long suspension bridge. After that the trial gently ascends to Kyangjuma and finally arrives at Namche Bazaar where we spend a night. It takes about 6 hours from Tyangboche to NamcheBaxzaar.
Day 20

Namche to Lukla

Namche is a beautiful city of Khumbu region from where we descend down to DudhkoshiRiver, cross the suspension bridge several times. We follow the same route to Lukla which takes around 7 hours. By the evening we will arrive at Lukla and sleep a night there.
Day 21

Fly back to Kathmandu (1350m) (35m flight)

we will fly early in the morning from Lukla to Kathmandu with the magnificent views of KongdeHimal, Mt.Everest along with the entire khombu and langtang ranges. We will be picked up by the airport representative and transferred to the hotel.
Day 22

Free Day

Today is whole day free and you can do shopping and packing for your final departure. By the evening, we will take you to the Nepali Chulo for farewell dinner and then drop to the hotel.
Day 23

Final Airport Drop

The driver will drop you to the airport for your final departure.
Not satisfied with this itinerary?
Are you interested in planning a customized trip that suits you?
Includes/Excludes
What's included?
Arrival and departure transportatations.

Hotel accommodation in Kathmandu for 4 nights with breakfast
Full day sightseeing in Kathmandu
Kathmandu/Lukla/Kathmandu flight tickets
All necessary paper work and trekking permits (National Park permit and TIMS)
Guide and porters salaries, insurance, transport, equipment, food and accommodation.An experienced English-speaking Govt. registered trekking guide and local porters to carry luggage (2 trekkers: 1 porter)
Foods (Breakfast, lunch and Dinner) with tea or coffee
Light fruitsTrekking poles
T-shirt from our company
What's excluded?
Kathmandu city tour guide and entrance fees
Lunch and dinner in Kathmandu
Deserts (cakes, bakes and pies)
Mineral Water
Boiled Water
Electronic device re- charge
Hot shower
Personal Expenses
Wi-fi
Travel Insurance and evacuations insurance

Tips for guide and porters

Do you want to Go, Find & Explore?