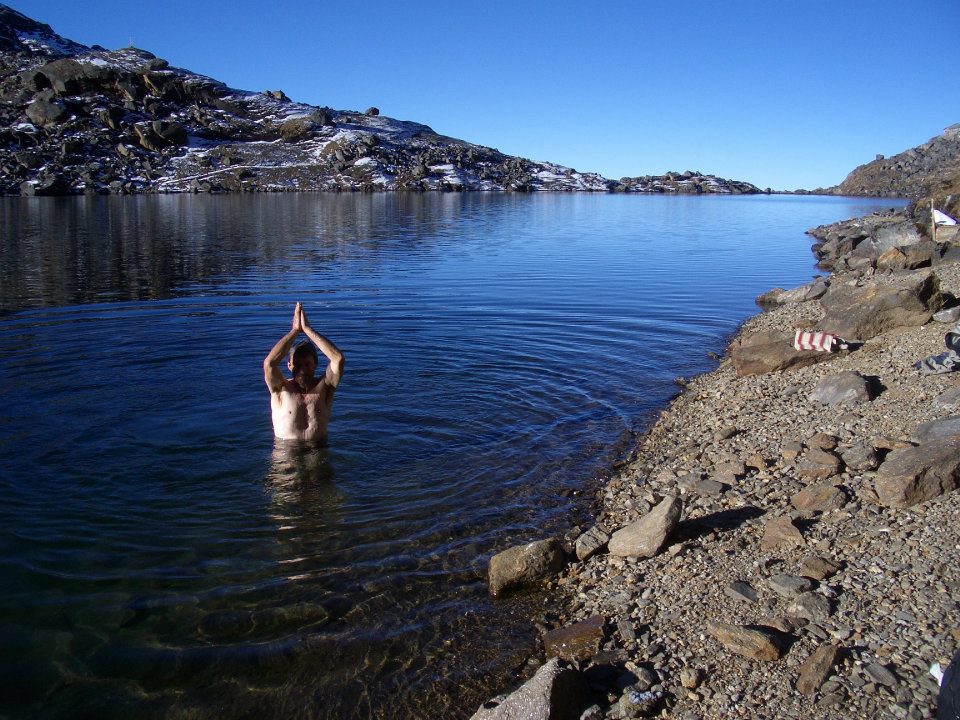 Overview
Langtang / Gosainkunda Trek
Langtang/Gosainkunda Trek is one of the most Popular trekking trail in Langtang region.This trekking destination is located in the northern side of Kathmandu valley which starts from Syabrubensi and ends at Dhunche. Gosainkunda, the sacred lake Situated on the elevation of 4,380m and popular for its magnificent Scenery of snow-capped mountains, typical culture, religious and Pilgrimage site. The holy lake Gosainkunda, is believed to have been created by lord Shiva. According to Hindu mythology,he thrust his trident into a mountain to extract water so that he could cool his stinging throat after he had swallowed poison. . Most of the people of this area are uneducated and mainly believe in Witch doctor for treatment if they get ill.
This trek Passes through the beautiful villages like; Syabru Bensi,, Lama Hotel, Langtang valley, Thulo Syabru, Sing Gompa, Gosainkunda and Dhunche etc.
Langtang Trekking Highlight
Gorgeous views of the mountain ranges such as Ganchhenpo, Langtang Himal, Langsisa, Bhairab Takura, Dorje Lhakpa, Yala and Langtang Lirung and many more.
Exploration of the Himalayan Tamang Community.
Exploration of the different buddhist Monasteries.
Best Time for Langtang/ Gosainkunda Trekking
The Langtang/ Gosainkunda Trekking can be done all round the year. But it's better to trek the Langtang/ Gosainkunda in Autumn and Spring Seasons.
Autumn (September, October, November)
Autumn is the festive Season for Trekking for Trekkers from all around the world. The weather Conditions in the month of September, October and November are mostly Suitable for trekking the Langtang/ Gosainkunda .
Autumn is one of the Peak Seasons in Nepal for trekking. The temperature during this Season is quite fine neither hot nor Cold. If you wish to trek the Langtang/Gosainkunda in autumn, you can also explore Some of the major festivals in Nepal which are observed in autumn.
Spring (March, April, May)
Spring is one of the best time of the year when beautiful flowers are blooming and new leaves start to grow. The whole Environment becomes green which gives you fresh air and Pleases your eyes.
During Spring, Nepal looks even more beautiful in Nature. You will have Clearer Scenic mountain views. The temperature and weather condition of the Everest region is also favourable.
You may expect some light rainfall in late May. But, don't worry, the view you get to explore in the next morning is Splendid.
Langtang/ Gosainkunda Trekking Difficulty
Langtang/ Gosainkunda Trek is an adventurous trek of the Langtang region
As you trek to a higher altitude, You might have some difficulty in breathing. The amount of Oxygen becomes thinner as you walk up to a higher altitude So, you may also face Acute Mountain Sickness.
The difficulty increases if you trek during the monsoon Season. During the monsoon there are heavy rainfalls which makes the trail muddy and Slippery. You need to be Careful with your Steps. Therefore, it is best to avoid trek there in the Monsoon if you are a beginner. If you are an well experienced trekker, then you are sure to enjoy in any Seasons.
Similarly, during the winter, the Mount Everest area is precisely enclosed with snow. it may cause difficulty in walking and Passing the trails.
Brief Itinerary:
Day 01: Katmandu to Dhunche
Day 02: Dhunche to Thulo Syabru Village
Day 03: Thulo Syabru village to Lama Hotel
Day 04: Lama Hotel to Langtang Village (3430m)
Day 05: Langtang to Kyanjing Gompa
Day 06: At Kyanjing Gompa
Day 07: Kyanjing Gompa to Lama Hotel

Day 08: Lama Hotel to Syabru Bessi Overnight there Hotel
Day 09: Syabru village to Kathmandu.
Itinerary
Day 01

Airport – Hotel in Kathmandu; (Overnight at Hotel)

Once you arrive there at the airport you will be Picked up and  transfer to the Hotel. After you get refresh you can just wander in the City around your Hotel.
Day 02

Kathmandu – Dhunche

Here,You drive to Dhunche through the Pasang Lhamu highway that twists and climbs over ridges to the Trishuli valley. During your drive you can See various interesting Scenery of the Countryside. Approx 6 hrs.
Day 03

Dhunche – Thulo Syabru

After having breakfast, you descend to the river then the trail Slowly goes uphill and you are rewarded with magnificent views of Mt. Ganesh Himal and different green Vegetations Such as; Pine and Rhododendron forest and finally, you reach Syabru Village and Overnight in a Tea house. Approx. 5 hrs.
Day 04

Thulo Syabru – Lama Hotel

You begin your trek through the green forest and then climb about an hour to Bamboo village where you have your lunch and Continue trek to Lama Hotel. Approx. 5 hrs.
Day 05

Lama Hotel – Langtang Village

Here, the trail Passes through the dense Rhododendron and Pine forests and reaches Ghora Tabela and after Completing your Lunch Continue trek to Langtang village.During your trek, you can See the Wonderful views of the mountains and the green hills and also if you are lucky you can even See some wild animals. Approx. 6 hrs
Day 06

Langtang -Kyangjin Gompa

After finishing your usual breakfast,You Continue trek to Kyangjin Gompa. Kyangjin Gompa is a Small and beautiful village where you can visit a very old monastery and you have the wonderful views of Ganchenpo, Langtang Himal, Langtang Lirung, Langsisa, Bhairab Takura, Dorje Lhakpa, Yala and many other Peaks.
Day 07

Kyangjin Gompa

Here, you Spend one more day, either you Just relax at your lodge or You go for hiking.
Day 08

Kyangjin Gompa -Lama Hotel

You are descending same way to Lama Hotel.
Day 09

Lama Hotel – Syabru Bensi

You Continue descend Same way till Bamboo and here, the different trail leads you to Syabru Bensi and stay Overnight in a Lodge.
Day 10

Syabru Bensi – Kathmandu.

Here, you start early to drive back to Kathmandu and once you reach there you Just check in to the Hotel and Stay Overnight.
Day 11

Kathmandu

Today is day free. You don't have any official Programme, So you can just wander and go for Shopping and in the evening you enjoy your typical Nepali farewell dinner in a traditional restaurant with Cultural Programmes.
Day 12

Airport

You will be Picked up from your Hotel and transfer to the airport for your final departure.
Not satisfied with this itinerary?
Are you interested in planning a customized trip that suits you?
Includes/Excludes
What's excluded?
Kathmandu city tour guide and entrance fees

Lunch and dinner in Kathmandu

Deserts (cakes, bakes and pies)

Mineral Water

Boiled Water

Electronic device re- charge

Hot shower

Personal Expenses

Wi-fi

Travel Insurance and evacuations insurance

Tips for guide and porters

Do you want to Go, Find & Explore?