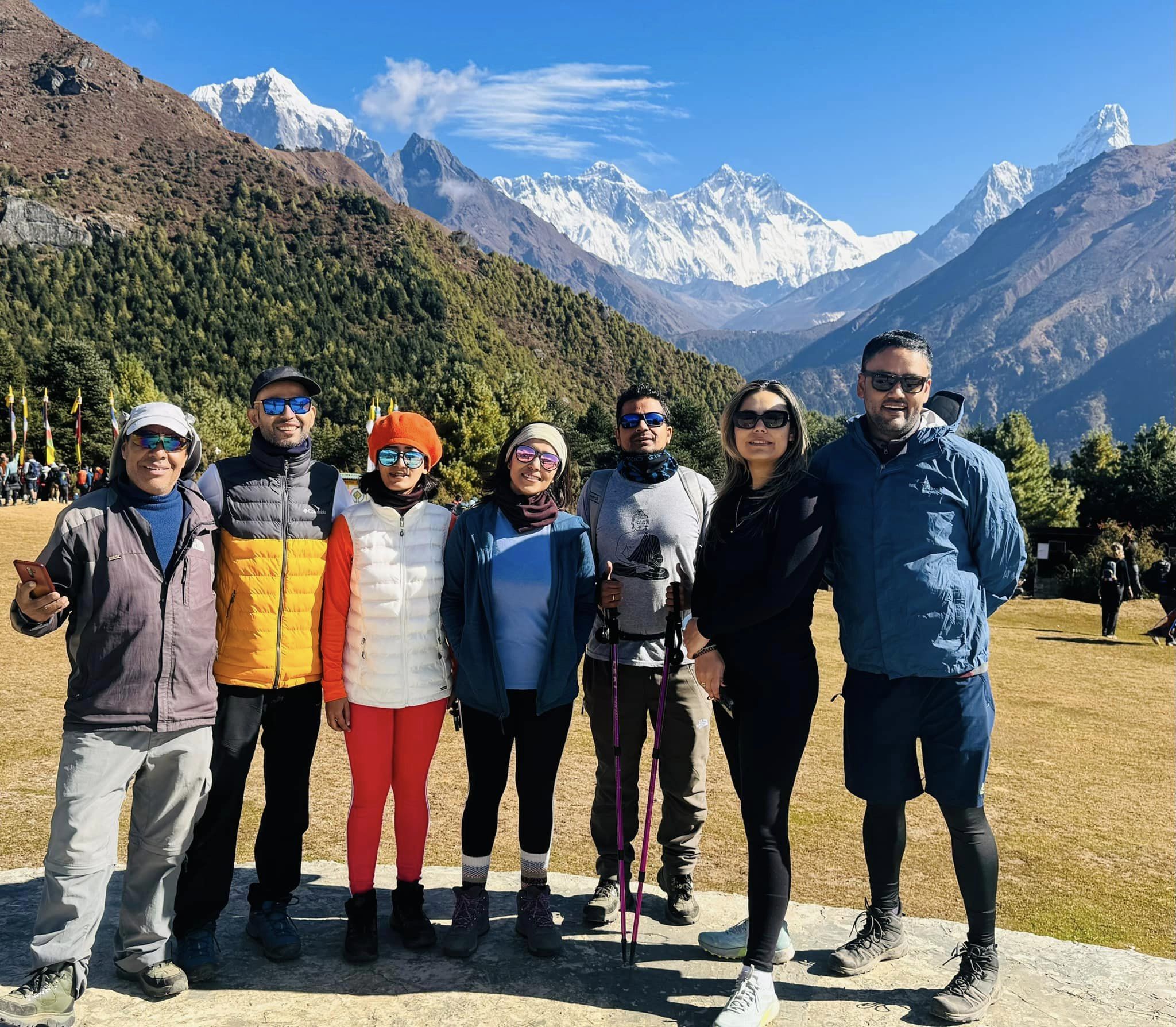 Travel
Considerations Before Trekking to Everest Base Camp
19th November, 2023 - Posted By: Himalayan Abode
It can be difficult to create a suitable Everest base camp trek schedule that meets your needs, tastes, and timeframe, but don't worry, we've produced this guide to help you get to know the area well. We hope that this guide will give you enough information on the Everest base camp trek distance, difficulty, and altitude to help you plan an itinerary for the famed Everest base camp trek. Also, here you will learn about some of the Considerations Before Trekking to Everest Base Camp.
Everest Base Camp Trek Distance
The overall distance for the Everest base camp trip (Lukla – Everest base camp – Lukla) is roughly 127 kilometers, excluding acclimatization hikes in Namche and Dingboche. Please keep in mind that there are several approaches and itineraries for EBC Trek.
The 130-kilometer journey is based on the conventional route through Namche, Tengboche, Dingboche, Lobuche, and Everest base camp.
127 kilometers may seem like a long distance to walk, but don't worry since you'll cover it in 12 days. On average, the daily journey will cover roughly 12 km in 6-7 hours. Due to the increasing altitude, the approach to the base camp will take longer days to ensure proper acclimatization.
Following sufficient rest and acclimatization, the Everest base camp hike takes an average of 12 days. Stayed two nights in Namche and two nights in Dingboche for acclimatization. We urge you not to shorten your schedule since this can result in altitude sickness.
If you are short on time but still want to complete the trek, we propose taking a helicopter journey back to Kathmandu from Gorakshep or any other location that fits your timetable.
Standard Everest Base Camp Itinerary
Namche, Tengboche, Dingboche, Lobuche, Gorak Shep, and Everest base camp are the standard routes to the summit. You could also extend your journey by exploring the less traveled route from Namche, Khumjung, Phortse, Dingboche, Lobuche, Gorekshep, and Everest base camp.
This also aids acclimatization because you will spend a few more nights at roughly 3,000m before reaching 4,000m. This is the same route we take on our Everest base camp treks.
Unless you want to cross Khongma La Pass, a high pass at 5,535m/18,160ft beneath the shadow of Lhotse's south face, the approach to Everest base camp is the same for everyone higher above Dingboche.
Walking Time to Everest Base Camp
On average, your daily hike will last 6-7 hours at a higher altitude. Some days will be significantly longer than others, but expect to walk 6-7 hours every day on average while carrying your backpack. The trekking hour will be shorter on rest and acclimatization days.
The trekking hour each day may vary depending on your fitness level, but don't worry, you'll have plenty of time to cover the daily distance at your own speed. You begin the walk at 8 a.m. and arrive at your overnight destination by 4 p.m., including a one-hour lunch stop.
There are various tea shops and rest stops along the trail, so you can always stop for a break and a cup of ginger lemon honey to get you going again.
Everest Base Camp Trek Altitude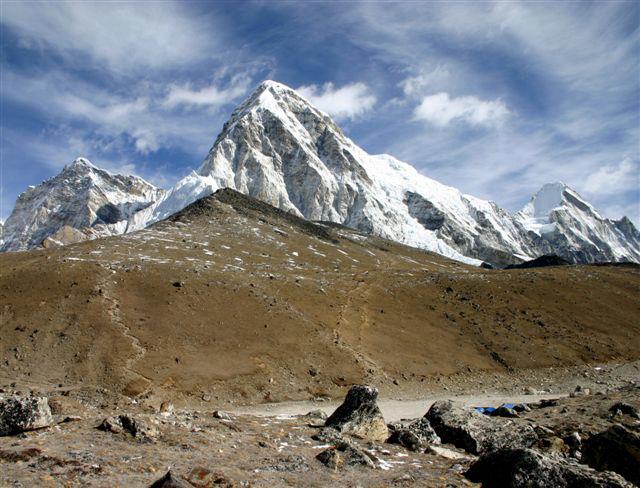 The highest altitude of the Everest base camp walk is 5,545m at Kalapathar, and the highest nighttime altitude is 5,160m at Gorekshep. Your trek begins and ends in Lukla, which is located at an elevation of 2,800 meters. 
Everyone doing the Everest base camp trek is concerned about the altitude. The hike is made more difficult by the high altitude involved. You begin the trek at 2,800m and increase height every day for the next 8 days, eventually reaching 5,545m at Kalapathar. 
Rapid ascent above the usual guideline of 400m-500m per day might result in severe mountain sickness and, finally, HAPE or HACE.
Everest Base Camp Trek Difficulty
Due to the lengthier duration of the trek at higher altitudes, the Everest Base Camp Trek is classified as difficult. The walk reaches a maximum altitude of 5,364 meters, with a nighttime altitude of 5,164 meters in Gorekshep. If you ascend Kalapathar, you will reach a maximum altitude of 5,545 meters at the peak.
The trek begins at 2,800m in Lukla, making it hard in terms of altitude. The approach to the base camp is not difficult because of the well-paved trail and commercialized communities along the way.
The last two days before reaching the base camp are difficult due to the rough terrain and moraine. The degree of difficulty is also determined by your level of experience and fitness. The more fit you are, the more fun the hike will be. It can be advantageous if you have already hiked to other high-altitude places.
There is no technical equipment required for the trek to Everest base camp. Quality trekking equipment, including robust and waterproof hiking boots, will be sufficient. However, keep in mind that it can become very chilly, so bring thick clothing.
Considerations Before Trekking to Everest Base Camp
Length of the trek
The trek appears to be very long at 130km (round trip), but when you consider that on an average guided trek, you will only be walking for 9 out of the 12 days, you will be covering roughly 15km per day. When you consider that the average walking speed is roughly 5 km/h, the result doesn't seem all that high.
Having said that, the 15 km each day will not be on a level, paved path. Rather, you will be trekking over rugged and sometimes icy terrain (depending on season and altitude), which will undoubtedly slow you down. When you mix the terrain with the fact that you're normally trekking upwards and increasing altitude, it's a recipe for disaster.
Altitude gain
The most difficult component of the journey is the altitude, which makes it more difficult than a typical trek of the same length. At the altitudes experienced on the walk, acute mountain sickness, and other altitude-related disorders pose a major risk.
The expedition begins with a harrowing flight to Lukla, which is just around 3,000 meters in elevation, and then ascends to Everest Base Camp, which is roughly 5,400 meters. The highest point, Kala Pathar, is a little over 5,500m above sea level, providing amazing views of the entire region.
Most guided tours will include two days to allow for acclimatization. These days allow your body to adjust to the higher-than-normal altitude while also allowing you to explore some of the nearby places when you are not hiking.
The outer portion of the journey should take 9 days due to acclimatization days and the leisurely approach to altitude rises, whereas the inward section should take only 3 days.
Before beginning the hike, do some research on the signs of altitude sickness and suitable acclimatization measures. We recommend consulting with your doctor because high altitudes can occasionally bring underlying ailments to the surface.
Weather and Climate Conditions
The weather in the Everest region is not always conducive to hiking. During the summer, heavy rainfall at lower elevations makes the trail wet and slippery. The misty and foggy weather that follows rain may hamper eyesight and increase risk while going through the trails.
Similarly, the constant snowfall makes the trail slick, and hikers have difficulty breathing at higher heights. Due to poor vision, even flight may be dangerous. Always gather appropriate information about the trek and always employ well-qualified guides when trekking during the off-season.
Preparations for the Everest Base Camp trek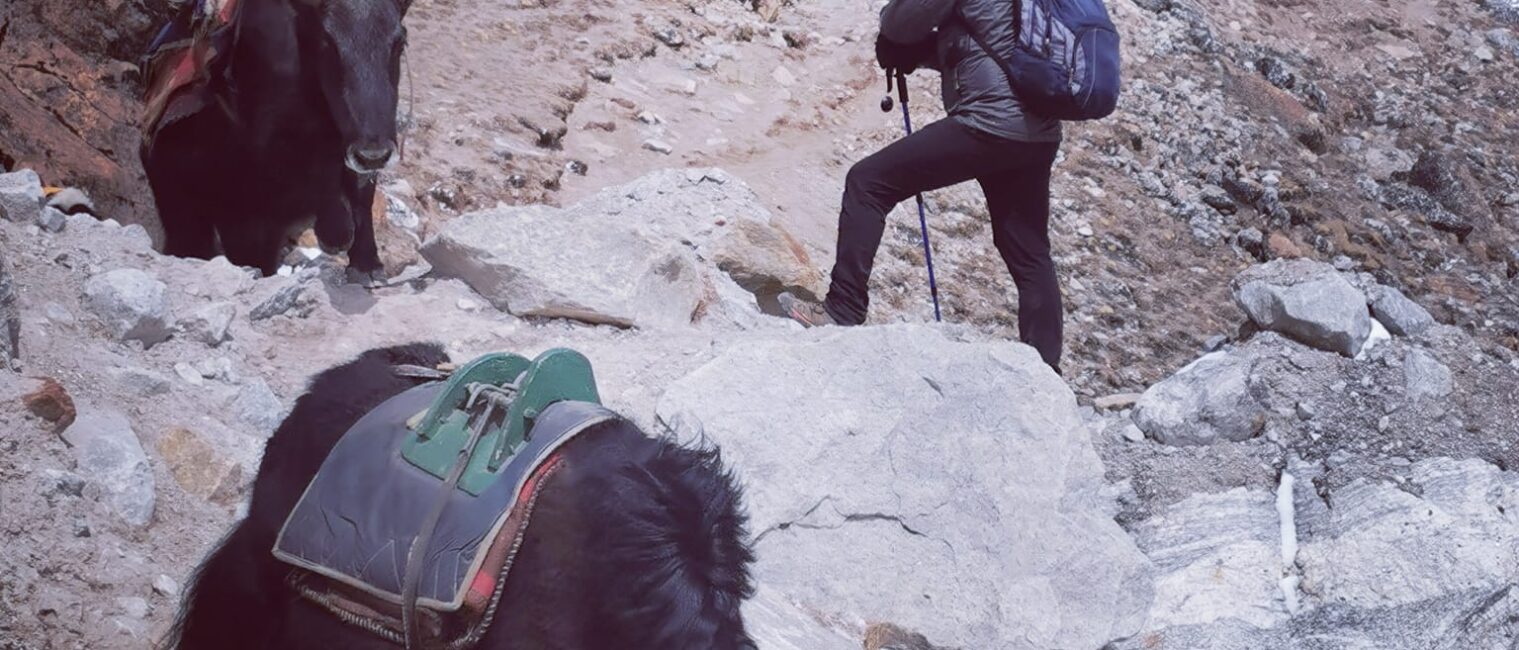 Hiking Practice
Hiking is the single best way to prepare for your Everest Base Camp climb. Find some nearby trails, go for a stroll in your town, or simply go for a walk. Get used to taking long walks. Discover where your body has difficulty and how far you can push yourself. You'll be surprised at how far you can go once you've gotten used to pushing through the initial wave of discomfort.
Begin slowly, gain endurance, and then gradually increase the challenge. Get to the point where you can walk for 5 or 6 hours without stopping. After a few all-day walks, you'll have a decent notion of how your body will react and how to handle an Everest Base Camp Trek.
Workouts and exercise
Trekking is an outdoor activity. You shouldn't need much-focused strength training, but it's a good complement that can be quite beneficial if you can't take practice hikes. Every day, you'll be trekking and climbing for several hours. Strength exercises early in the day will help your legs prepare.
If you don't have access to decent trails, here's a basic training program that will get you ready for Everest Base Camp by utilizing a treadmill and stair machine. If you don't have access to these machines, a running track in the park or a walk around the block can suffice.
Acclimatization Training
The Everest Base Camp Trek is a high-altitude trek that ascends to an elevation of 5,545 meters. There is less oxygen to breathe as you ascend. According to the Centers for Disease Control and Prevention, elevations above 2,800 meters provide 60% less oxygen than sea level.
Anyone, including young and fit people, can suffer from altitude sickness. If not treated promptly, it will put an end to your journey and, in some situations, prove fatal.
As a result, if this is your first high-altitude hike, you should consider other options first. Other high-altitude treks in Nepal include the Annapurna Base Camp trek and the Muktinath Jomsom trek. These could be acclimatization treks in preparation for a successful Everest Base Camp expedition.
Conclusion on Considerations Before Trekking to Everest Base Camp
The Everest Region trek is the most popular Himalayan trip. Trekking at a greater altitude is always risky, although the Everest Base Camp Trek is not so dangerous. we discuss Considerations Before Trekking to Everest Base Camp
The EBC Trek has been easily completed by trekkers ranging in age from 17 to 70 years old; therefore, if you have devotion and enthusiasm, the EBC Trek is one of the easiest treks for you. We offer a variety of Everest Region Treks to our adventurers.
Recent Posts