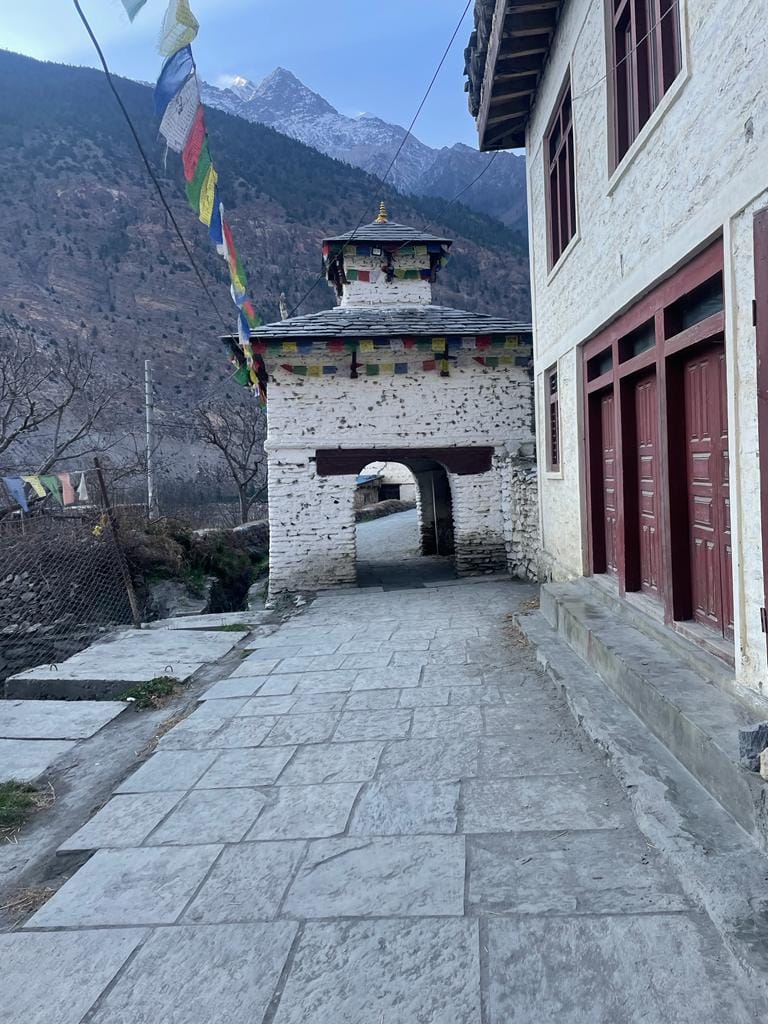 Overview
Jomsom Muktinath is the most popular religious tour for both Hindus and Buddhists that starts from Jomosom and ends at the same place. It is the most popular destination for pilgrims due to its holy shrine called Muktinath Temple. It is named from the combination of two words Mukti+ Nath.
Here, Mukti means salvation and Nath means God. It is located at an elevation of 3,760 m. According to legend, Hindus believe that Lord Vishnu got salvation from the curse of Brinda (wife of Jalandhar) here. Therefore he is worshipped as Muktinath (Lit. the lord of salvation).
The holy shrine, which is said to have risen on its own, is one of eight such shrines (the others include Srirangam, Sri Mushnam, Tirupati, Naimisaranyam, Thottadri, Pushkaram, and Badrinath).
It is also one of 108 Vaishnava shrines. It carries great significance for all human beings in the South Asian subcontinent. It is a symbol of religious symbiosis between Buddhists and Hindus. You can reach Jomsom by flight or Heli or by Jeep.
Brief Itinerary for Jomsom Muktinath:
Day 01: Arrival in Kathmandu
Day 02: Kathmandu to Pokhara
Day 03: Pokhara to Jomsom flight and trek to Kagbeni
Day 04: Kagbeni to Muktinath
Day 05: Muktinath to Jomsom
Day 06: Jomsom to Pokhara by flight
Day 07: Pokhara to Kathmandu
Day 08: Final departure
Itinerary
Day 01

Arrival in Kathmandu (1350m)

You will be picked up by our airport representative and transferred to the hotel. You can have refreshment at the hotel and explore around city.
Day 02

Sightseeing in Kathmandu Valley and prepare for the trek

Today, we will drive you to Bhaktapur for sightseeing. It is one of the oldest heritage site of Kathmandu valley where you can see the ancient Bhaktapur Durbar Square and others old temple as well. After that you will be taken to BoudhanathStupa which is the most popular and huge Buddhist temple of Nepal. Having finished it, we will drive you to Hotel and prepare for the next day's trip.
Day 03

Kathmandu to Pokhara (850)

On the next day, we will take a private car or tourist bus early in the morning to Pokhara which takes around 7-8 hours. Pokhara is one of the popular cities for tourist where we spend a night at Lake Side.
Day 04

Pokhara to Jomsom(2,715m) flight and trek to Kagbeni(2804)

From Pokhara, we fly to Jomsom early in the morning with the splendid views of Annapurna range and Dhaulagiri which takes approximately 25 minutes. After 25 minutes of short flight you get to Jomsom. It is the main headquarter of Mustang district. From here, we cross Kaligandaki River and head to Kagbeni through the bank of Kaligandaki River. It takes about 4/5 hours to get to Kagbeni where we spend a night at lodge.
Day 05

Kagbeni to Muktinath(3800m)

Kagbeni is the main entrance of upper mustang. From here, the trail ascends to Jarkot and finally reaches at Muktinath. Muktinath is the main destination of this trek where we visit the holy temple of Muktinath and stay overnight at lodge.
Day 06

Muktinath(3,800m) to Jomsom(2,713m)

After having visited and spent a night at Muktinath, we will have breakfast and trek to Jomsom. From here, the trail descends through the same trail along with the beautiful scenery of Mt. Dhaulagiri and Nilgiri. It takes about 5/6 hours from Muktinath to Jomsom and stay overnight at lodge.
Day 07

Jomsom(2,713m) to Pokhara(850m) by flight

Today, we will fly to Pokhara early in the morning with the magnificent scenery of Mt. Dhaulagiri and Annapurna range.After 25 minutes of short flight we will arrive at Pokhara and stay overnight at hotel.
Day 08

Pokhara(850m) to Kathmandu(1350m)

From Pokhara we will catch a tourist bus to Kathmandu which takes around 7-8 hours. To celebrate the successful completion of our journey, we will have a farewell dinner in the evening. Overnight  in Kathmandu.
Day 09

Final Departure

Our journey in Nepal comes to an end today! We will drop you to the airport approximately 3 hours before your scheduled flight.
Not satisfied with this itinerary?
Are you interested in planning a customized trip that suits you?
Includes/Excludes
What's included?
Arrival and departure transportation
Hotel in Kathmandu with breakfast
All necessary paper work and permits
Trekking poles with company T-shirt
An experienced English-speaking Govt. registered trekking guide and local porters to carry luggage (2 trekkers: 1 porter)
Guide and porter salaries, insurance, equipment, transport, food and accommodations
Foods (Breakfast, Lunch and Dinner) with tea or coffee during the trek
All accommodation during the trek
What's excluded?
Kathmandu city tour guide and entrance fees

Lunch and dinner in Kathmandu

Deserts (cakes, bakes and pies)

Mineral Water

Boiled Water

Electronic device re- charge

Hot shower

Personal Expenses

Wi-fi

Travel Insurance and evacuations insurance

Tips for guide and porters
FAQs
What are the main indigenous groups of this region?
The main indigenous groups of this area are Gurung and Magar.
What sort of wild animals and birds we can see in this region?
What sort of accommodation are available in this region?
What are the Possibilities of getting altitude Sickness?
What sort of equipment do we need?

Do you want to Go, Find & Explore?