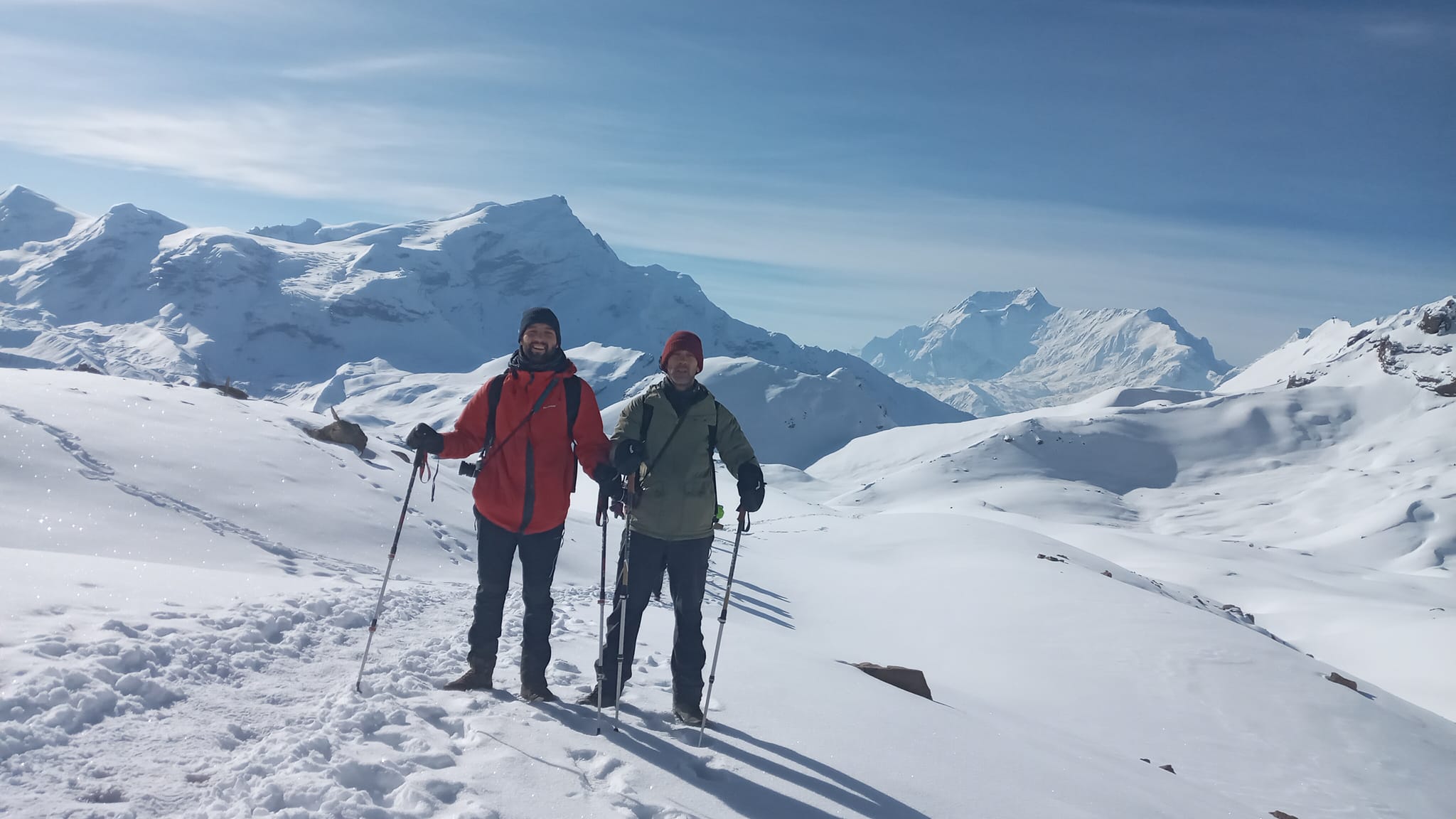 Overview
Tilicho lake trek and Annapurna Round is the adventure trek to explore the difficult trekking trail as well as the beauty of the Tilicho Lake. Tilicho Lake is located at the height of 4920 meter and it is the highest lake of the world.The thundered sound of avalanche and the calm of the Tilicho Lake are really amazing. The herd of blue sheep and Yaks are another attraction of this trek. The view of the Tilicho peak is really admirable.
Tilicho lake & Around Annapurna Trekking Highlight
Trek to the untouched and beautiful area of the Annapurna region.
Different green Vegetation
Gorgeous view of the mountain ranges such as Mt.Annapurna I, Mt. Dhaulagiri, Nilgiri and entire Annapurna ranges.
Exploration of the Himalayan Gurung, Thakali and Magar Community.
Thorong – La Pass and renowned Holy Muktinath Temple
Tilicho Lake & Around Annapurna Trekking Difficulty
The difficulty increases if you trek during the monsoon season. You need to be Careful with your Steps. If you trek there in January, it's covered with Snow So, it may difficult to find the trail Sometime. Therefore, it is best to avoid trek there in the Monsoon and in Winter. If you are a beginner. If you are an well experienced trekker, then you are sure to enjoy in any seasons.
Brief Itinerary
Day 01: Kathmandu to Besishahar

Day 02: Besishahar to Chame (2670m)

Day 03: Chame to Pisang (3200m)
Day 04: Pisang to Manang (3540m)
Day 05: Acclimatization day in Manang
Day 6: Manang to Khansar

Day 7: Khangsar to Tilicho Base Camp (4800m)
Day 9: Tilicho Base Camp toYakkharka
Day 10: Kharka to ThorongPhedi
Day 11: ThorongPhedi to Muktinath via Thorong La
Day 12: Muktinath to Jomsom
Day 13: Jomsom to Pokhara flight
Day 14: Pokhara to Kathmandu
Itinerary
Day Day01

Kathmandu to Besishahar (760m/2490ft)

Today we drive you to Besishahar which takes around 8 hours and stay overnight stay there.
Day Day02

Besishahar to Chame (2670m)

On the next day, we catch a jeep from Besishahar to Chame which takes about 10 hours and by the evening we will reach Chame and spend a night there.
Day Day03

Chame to Pisang (3200m)

The trail runs through deep forest in a steep and narrow valley, crossing a river on a long bridge at 3040m. We can see the nice view of Pisang peak and Annapurna ranges. It takes around 6 hours. Overnight at lodge.
Day Day04

Pisang to Manang (3540m)

The trail climbs a steep ridge that extends into the valley. On the way, we can see the excellent views of Manang Valley, with Tilicho peak (7132m). The trail crosses the Marsyangdi on a large wooden bridge near Mungji at 3360m then traverses to Bryaga, a Tibetan style village consisting of about 200 houses and finally arrives at Manang.
Day Day05

Acclimatization day in Manang (3540m)

we spend a day in Manang village to acclimatize and explore Manang. From here we can see the excellent views of the Annapurna II, Annapurna III and Gangapurna Lake.Overnight at lodge.
Day Day06

Manang to Khansar

We start our trekking by leaving the main route of Annapurna Circuit, we take the lest route from Manang by Crossing a Bridge once the MarshyanndiKhola and follow Another Stream coming from Tilicho, about 4 hours walking we reach at Khansar and Overnight at Lodge.
Day Day07

Khangsar to Tilicho Base Camp (4800m)

Trek to Tilicho Base Camp (4800m)- overnight at Lodge.
Day Day08

TilichoLake (4919meters) visit

Trek to Tilicho Lake and return back to Tilicho Base Camp and overnight at lodge.
Day Day09

Tilicho Base Camp to Yakkharka

From Tilicho Base Camp we return back toYakkharkawhich takes at least 6 hours overnight at lodge.
Day Day10

Kharka to ThorongPhedi(4,540m/14895ft)

We start our trekking with climb gradually to a ridge before descending to the headwaters of the Marsyangdi and crossing via a covered wooden bridge. After a short ascent up the mountain path on the right bank, you follow a narrow trail across an unstable spree slope and then descend to ThorungPhedi, overnight at Lodge
Day Day11

ThorongPhedi to Muktinath (3710m) via Thorong La (5416m)

Today, we start our trekking quite early in the morning crossing the Thorung La (5416m.). The trail climbs up from Phedi to high camp and continues to the pass with the excellent view of the snowcapped mountains. After 5 hours of walking, you will get to the top. From the pass the way continually descends to Muktinathand you can see the dramatic scenery of Mustang valley along with Dhaulagiri. By the evening you will arrive at Muktinath where we spend a night.
Day Day12

Muktinath(3710m) to Jomsom (2743m)

Today is our last day walking of our trekking and we trek to Jomsom.After walking about 6 hours, we will arrive at Jomsom, The Administrative center of this region. Overnight at Jomsom.
Day Day13

Jomsom to Pokhara flight(850m)

We fly early in the morning from Jomsom to Pokhara which takes around 30 minutes and stay a night at Pokhara.
Day Day14

 Pokhara (850m) to Kathmandu (1350m)

From Pokhara we will catch a tourist bus to Kathmandu which takes around 7-8 hours. To celebrate the successful completion of our journey, we will have a farewell dinner in the evening. Overnight in  Kathmandu.
Day Day15

Final Departure.

Our journey in Nepal comes to an end today! We will drop you to the airport approximately 3 hours before your scheduled flight.
Not satisfied with this itinerary?
Are you interested in planning a customized trip that suits you?
Fixed Departure
Select Month
Jan
Feb
Mar
Apr
May
Jun
Jul
Aug
Sep
Oct
Nov
Dec
| Start Date | End Date | Availability | |
| --- | --- | --- | --- |
| 25 Sep, 2023 | 10 Oct, 2023 | OPEN | Enquire |
| 1 Oct, 2023 | 15 Oct, 2023 | OPEN | Enquire |
| 4 Oct, 2023 | 18 Oct, 2023 | OPEN | Enquire |
| 10 Oct, 2023 | 25 Oct, 2023 | OPEN | Enquire |
| 25 Oct, 2023 | 9 Nov, 2023 | OPEN | Enquire |
| 1 Sep, 2024 | 15 Aug, 2024 | OPEN | Enquire |
| 10 Sep, 2024 | 25 Sep, 2024 | OPEN | Enquire |
| 15 Sep, 2024 | 30 Sep, 2024 | OPEN | Enquire |
Includes/Excludes
What's included?
Arrival and departure transportation
All necessary paper work and permits (Annapurna Conservation permit and TIMS )
Trekking poles with company T-shirt
An experienced English-speaking Govt. registered trekking guide and local porters to carry luggage (2 trekkers: 1 porter)
Guide and porter salaries, insurance, equipment, transport, food and accommodations
Kathmandu to

Besishahar

by Bus or private transport
Jomsom to Pokhara by Flight
Foods (Breakfast, Lunch and Dinner) with tea or coffee during the trek
All accommodation during the trek
1Nigh Hotel in Pokhara with Breakfast.
Pokhara-Kathmandu by tourist bus or Flight
What's excluded?
Deserts (cakes, bakes and pies)

Mineral Water

Boiled Water

Electronic device re- charge

Hot shower

Personal Expenses

Wi-fi

Travel Insurance and evacuations insurance

Tips for guide and porters
Useful Info
Required equipments and useful tips for your Trekking/ Hiking Tours:
The Hiking /Trekking generally goes through the high Himalayan passes, it may covers with full of snow so, we advise you to accompany a porter to carry your necessary stuffs. The porter usually carries 18 kgs of your luggage.We also expect you to carry a regular backpack for your valuables and required goods.
We as a travel operator suggest you to bring the basic clothing and accessories to the trek and the remaining  you can just leave/store at Himalayan Abode Trekking or at your Hotel in Kathmandu/Pokhara for free. Here are the basic list of usual equipments regarding your Trekking/ Hiking duration.
Winter hat/ Insulating hat/ Wide-brimmed hat
Headlight with an extra supplement batteries
Sunscreen
Sunglass with UV protection
Face/body wipes
Lightweight gloves
Heavyweight winter gloves
Sun hat or Scarf
Lightweight cotton pants
T-Shirt ( Lightweight wool)
Polypropylene underwear
Down jacket (available on hire in Kathmandu/ Pokhara)
Sweater
Hiking Boots
Thick wool socks (bring an extra pair of thick light socks)
Hiking Shirts/Long-Sleeved Shirt
Rain Jacket or Rain Coat
Fleece Jacket
Water sterilization tablets or liquids
Trekking/Hiking pole
Sleeping bag (-15 is recommended in high altitude trekking)
Towel
Toothbrush
Toothpaste
Deodorant floss
Thermal Bottle
Biodegradable bar soap
First aid kit etc.

Do you want to Go, Find & Explore?